Sheraton Maui Resort & Spa Shines Bright at Black Rock
Sheraton Maui Resort & Spa Shines Bright at Black Rock
Holy Honu (green sea turtles) – so far the summer of 2021 at the Sheraton Maui Resort & Spa in Kaanapali has been teeming with tourists and guest numbers that exactly no one saw coming.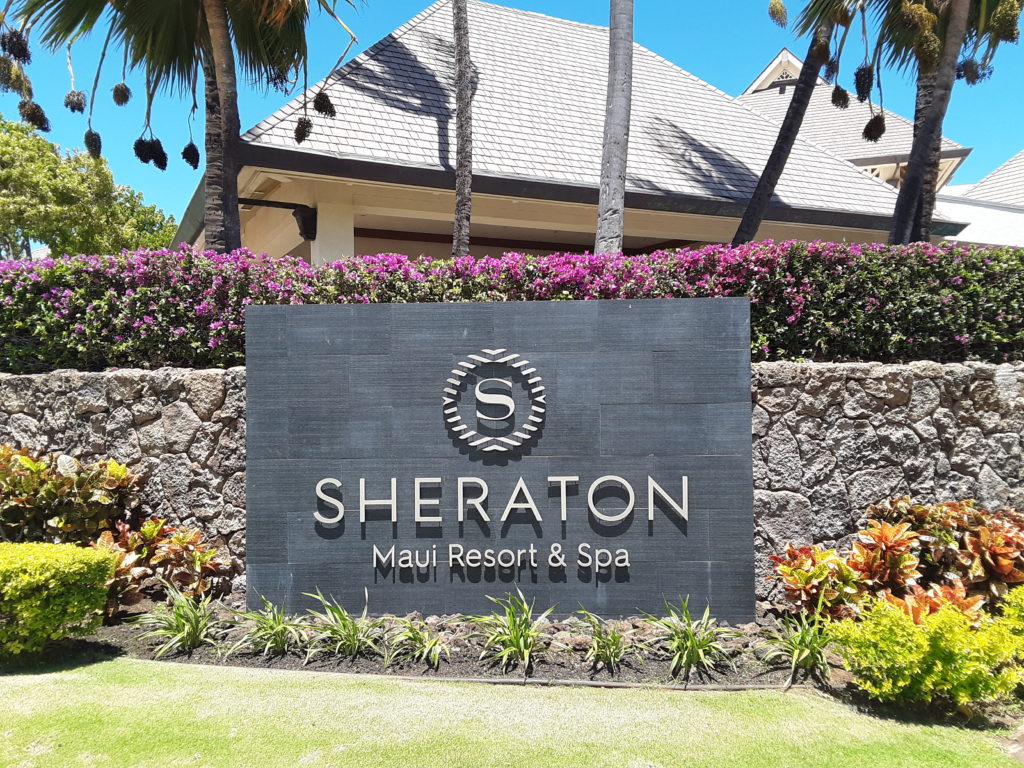 No kidding. Who opened the barn door? Industry experts were predicting a "gradual return" of visitors to the Valley Isle as the pandemic initially waned but instead got a Gold Medal rush of voracious vacationers with dollars to drop and depths to snorkel. It's reasonable to assume that the Sheraton, like many sister resorts, had to gear up and staff up on the fly.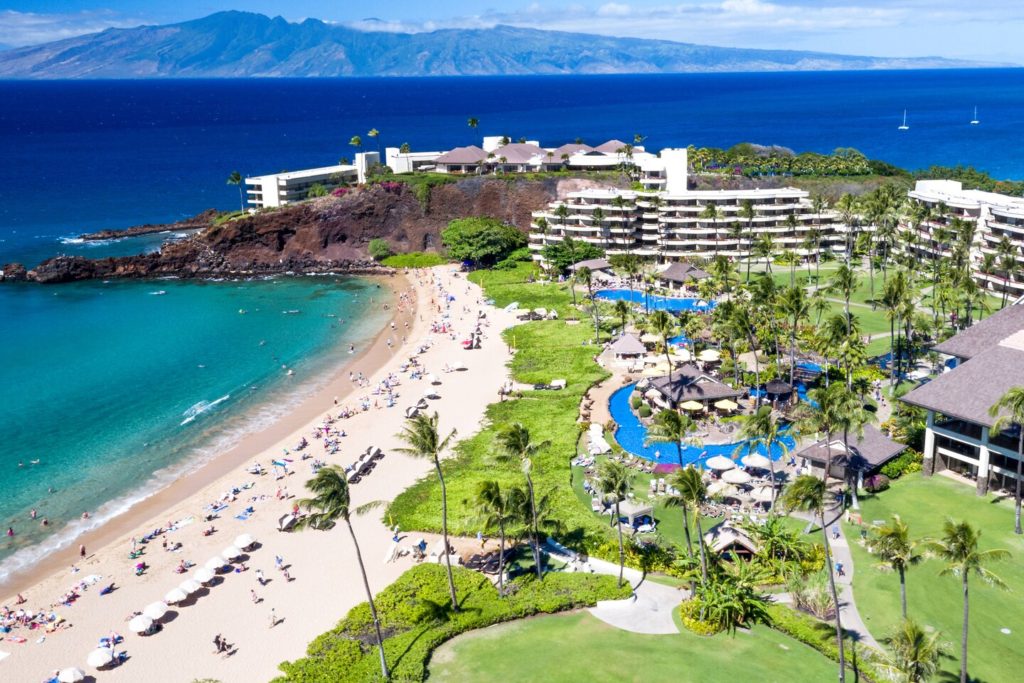 Thanks to being re-hired by Aqualani Beach & Ocean Recreation as a Pool Attendant, I joined the fray on July 2 and was blown away by the wet-and-wild wanderlust. Bustling beaches. Packed pool decks. Poolside lounges, hooded casabellas, and cozy cabanas at 99.5% occupancy. Snorkel gear and boogie boards being rented faster than stocked inventory. Supervisor Phil said he has "never seen it this busy" in his 10 years at the 4-Star resort.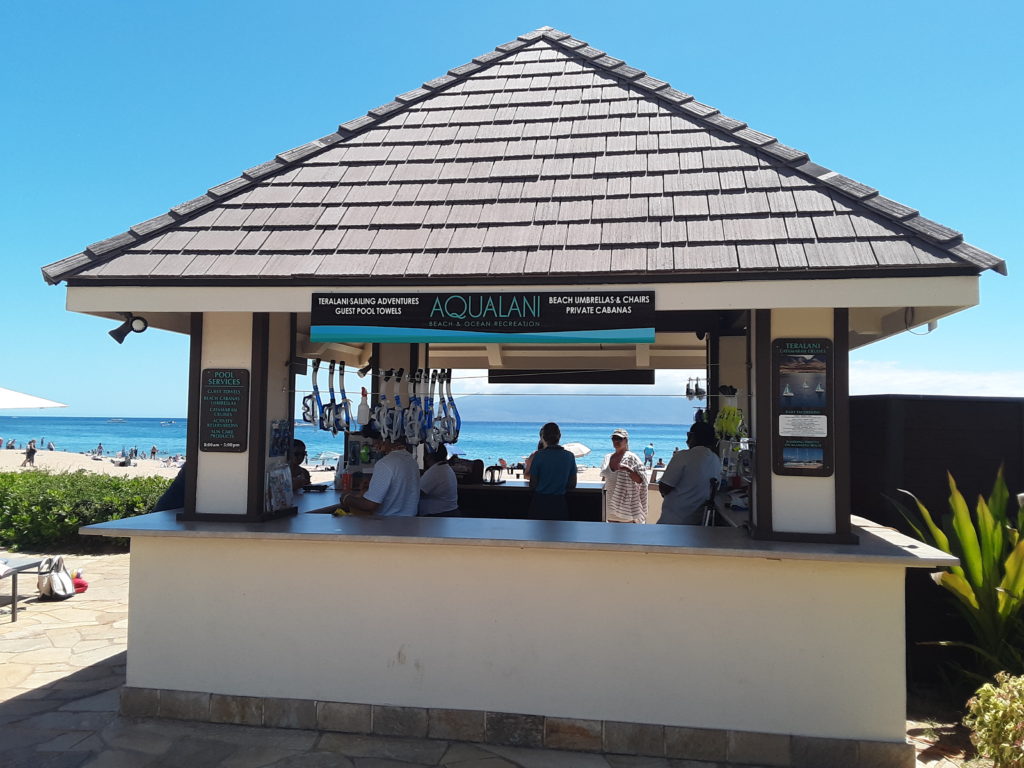 Why all the excitement? Sure, folks had been cooped up for ages and were looking for a whale of a good time. That's a start. I'd chalk it up the Sheraton's aquatic triple-treat – the pools, the white-sand beach, and Black Rock for snorkelers and cliff diving (lele kawa).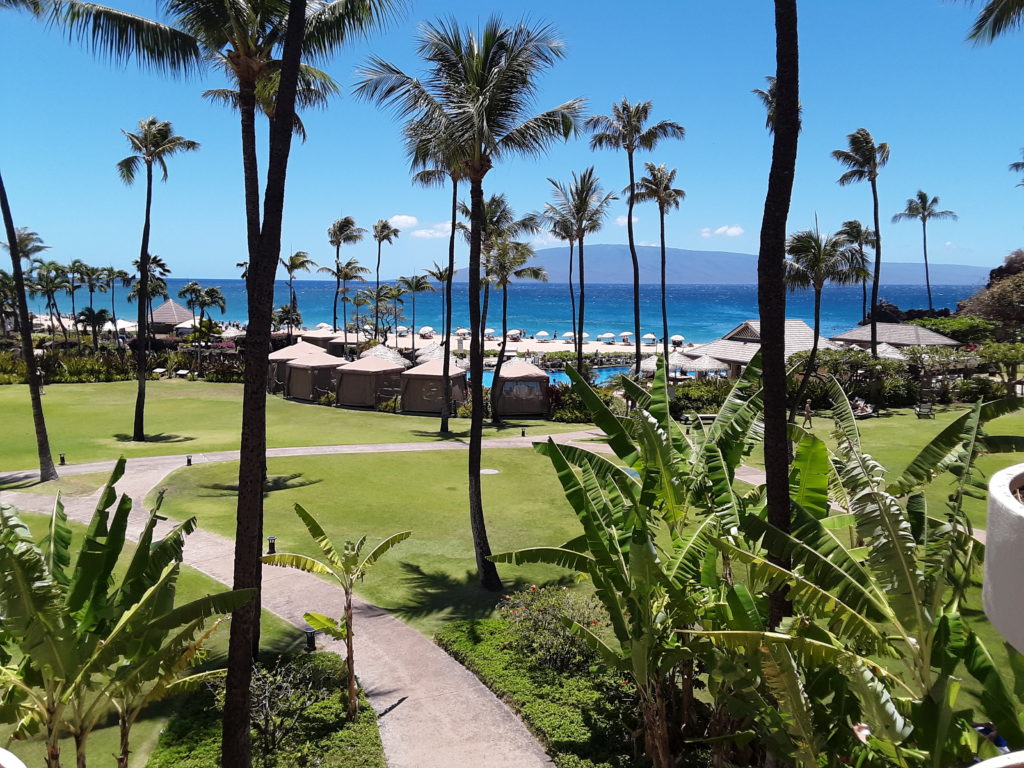 There are two pools, one adult (makua) and one children (keiki), connected by a 142-yard lagoon-style lazy river that weaves under bridges, passes waterfalls, and flows in front of diners and drinkers at the Cliff Dive Grill. Nice play station for Mom and Dad to treat and wear out their little buggers. Swimmers can also laze in certain spots on a floatie and gaze out leisurely at the beautiful blue Pacific.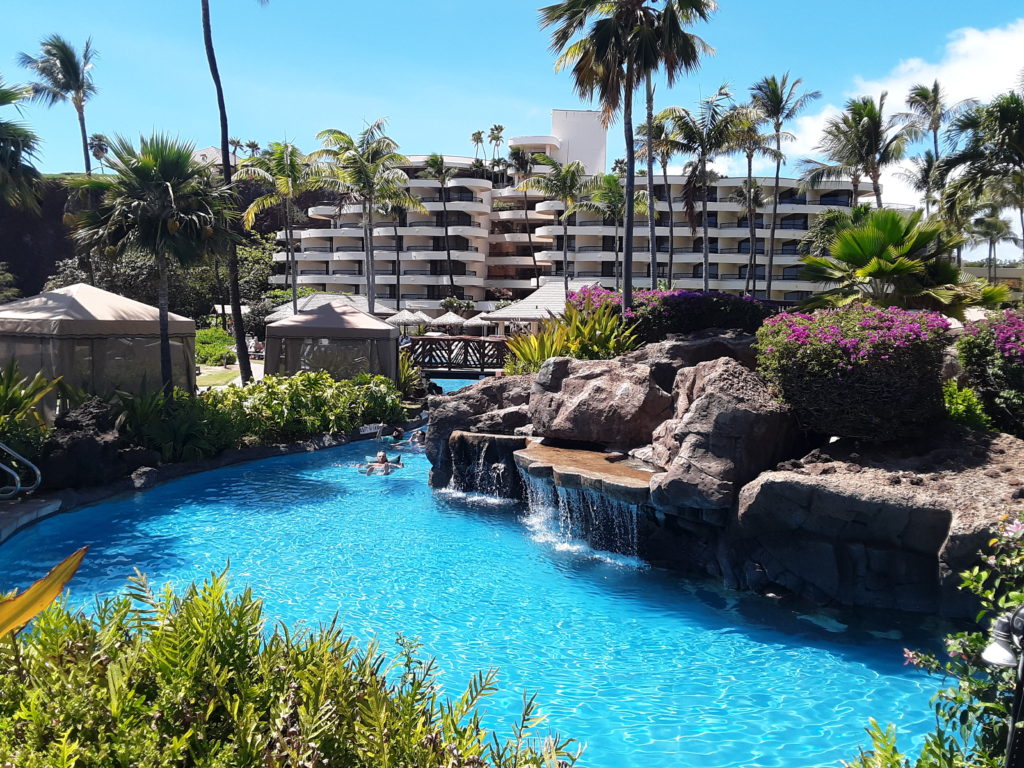 The beach is long, wide, and very inviting. By 11 AM Aqualani staffers have planted all 20 umbrellas (umbrellas sell out daily – arrive early at the Pool Shack to snag one) that each come with two lounges. By early afternoon there is a parade of umbrellas, towels and sun-bathers lining the hot sand. A few guests have told me that upon arrival they buy an umbrella, use it as sunscreen, then donate it to others on their last day. Ah yes, recycling. Maui needs much much more of it.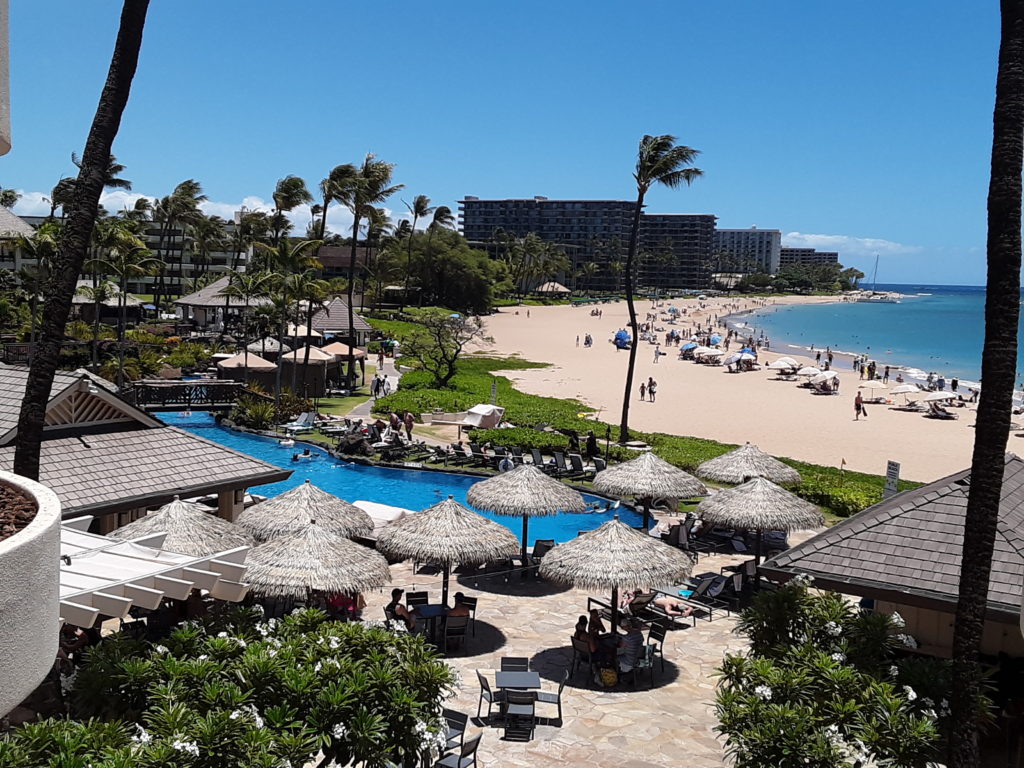 The blockbuster big fish is Black Rock (Pu'u Keka'a) and its rolling surf. This gorgeous setting is what separates the Sheraton from the rest of the pack and causes guests and locals to mash together with powerful energy (mana). Every day a swimmer tells me about the "amazing snorkeling spots" and how many turtles they swam near. One afternoon a pod of dolphins cruised by and caused a frenzy. Almost hourly you'll hear a roar from the masses shouting "jump, jump, jump" to an unsure cliff diver. Total theater. Totally without lifeguards.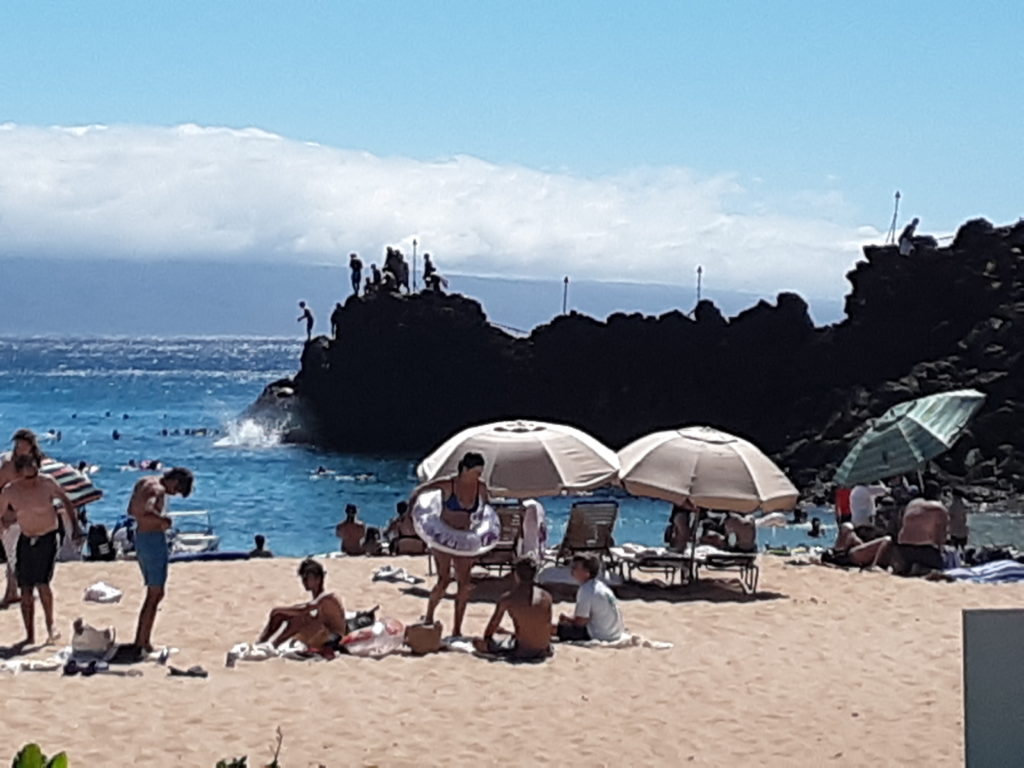 Black Rock is a landmark lava-formed rocky peninsula that juts out into the ocean and believed to be a sacred spot where the souls of the deceased would leap from the physical world into the spirit one. Every night at sunset the Sheraton hosts a torch-lighting ceremony that recreates this leap of bravery and ends with a young Hawaiian native making a splash. More theater. A taste of local culture.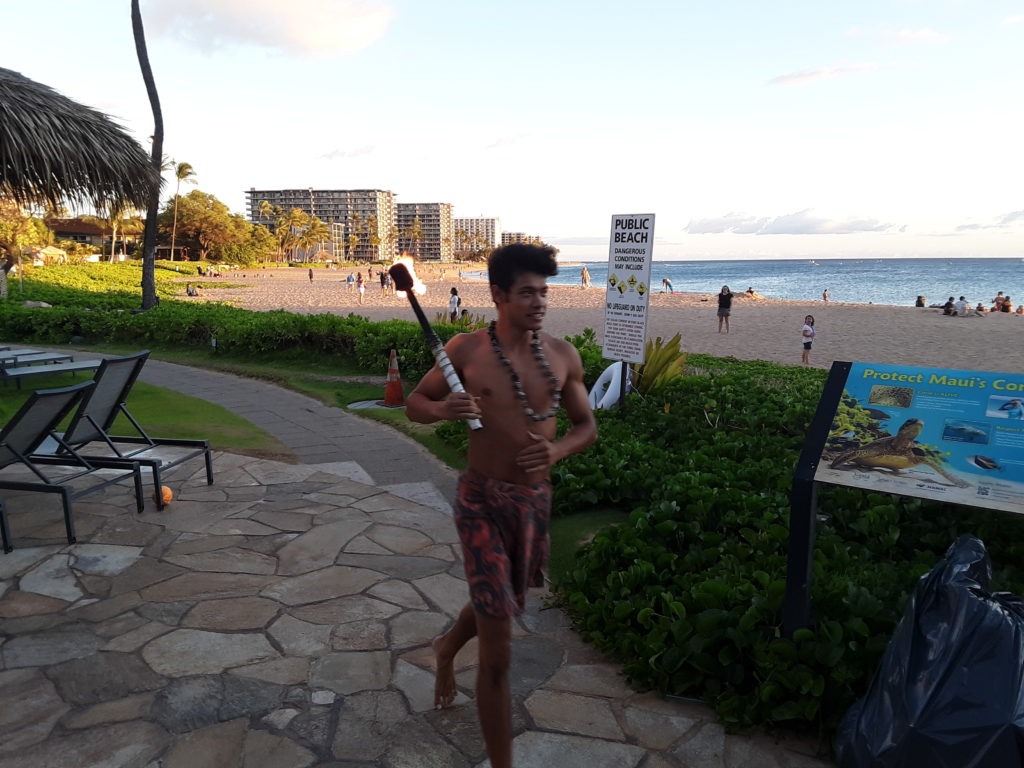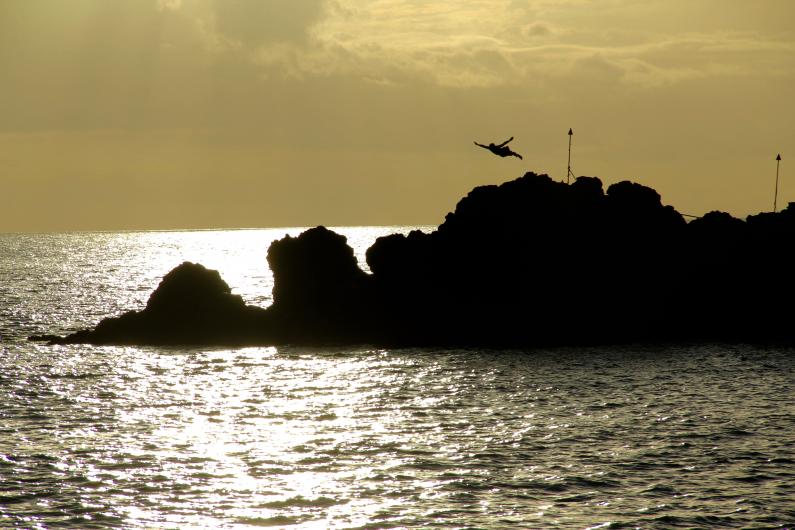 I've yet to take the cliff challenge. For now the job keeps me on land and well-exercised with moving heavy towel bins and monitoring pool activities. Sweet gig in a sweet location. What happens at the beach stays at the beach! Scuba enthusiasts can take introductory lessons and/or do certified guided dives in full gear with Black Rock Scuba teaching pro Jose Silva. The ocean awaits. And guests keep coming.