Q+A with Alex Urban (Executive Director) and Amanda Wolf (Tournament Director) of the Sentry Tournament of Champions in Kapalua, Maui
Q+A with Alex Urban (Executive Director) and Amanda Wolf (Tournament Director) of the Sentry Tournament of Champions in Kapalua, Maui
Happy New Year, Alex Urban and Amanda Wolf. Hope you had a chance to celebrate and maybe catch a few bowl games. But now it's the first week of January and the PGA Golf universe is on your lanai and expects a whale of a show. Good luck. No mulligans. Hit'em straight and replace your divots.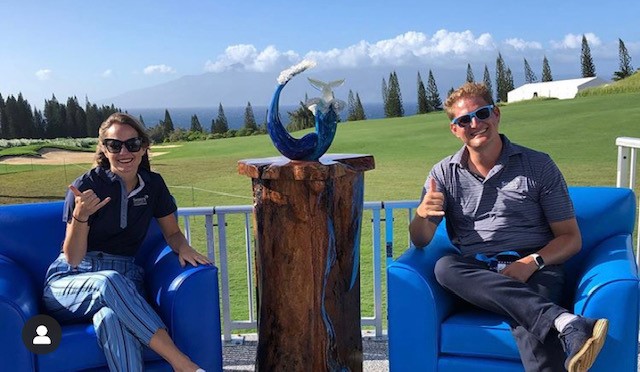 Scorecard Notes: the 2022 Sentry Tournament of Champions (STOC) is taking place on January 5-9 at the Plantation Course in Kapalua, Maui. The island event features only the winners from 2021 on the PGA TOUR while shooting way over par in support of non-profits on the Valley Isle. Alex is the Executive Director and Amanda the Tournament Director. Big jobs. Big budgets. Big expectations on the paddleboards of two mainlanders who migrated way west for these paradise assignments.

Scorecard Numbers: in 2021 $526,760 was distributed to local organizations and the tournament has generated more than $7.5 million for community charities since it moved to Maui in 1999. What's it like spending 51 weeks of planning and one week of live action with zillions of moving parts? We asked Alex and Amanda to "drive for show and putt for dough":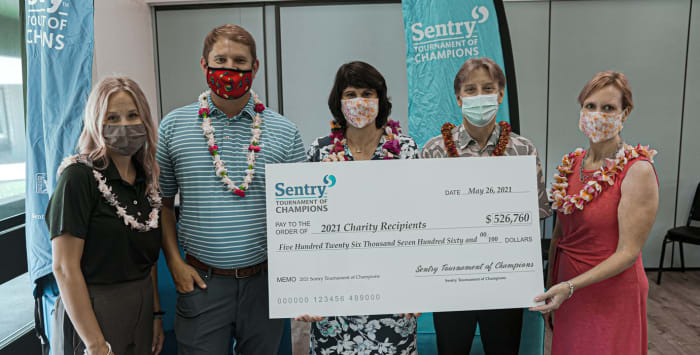 RGR: Born + raised? Clemson and Marquette? Majors in college?
AU: Born in Austin, Texas, and moved around a bit as a kid, until settling in Columbus, Ohio. I studied Political Science and Communications at Clemson, and earned a Master's Degree in Public Relations from the University of Georgia.
AW: Born and raised in Grafton, Wisconsin. A little town just north of Milwaukee. I originally went to Marquette to be a teacher, but the semester before graduation I changed my major to Communications. I was working at a golf course at the time and really enjoyed watching the events come to fruition.
RGR: How did both of you mainlanders land a job with the PGA? Did you apply? And how were you fortunate enough to get assigned to Kapalua?
AU: During college I was lucky enough to apply for and get an internship with the USGA in its communications department. Through that opportunity, made contact within the industry and was able to get an entry level job in corporate marketing with the PGA TOUR. After working in that department and then Communications for several years, was lucky enough to be offered the chance to move from Jacksonville, Florida and join the tournament team on Maui.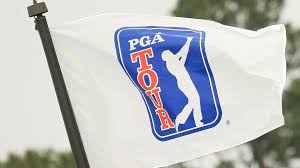 AW: I applied when I was working at Waialae Country Club on Oahu. I originally relocated for my significant other's job in the travel industry (Hawaii was his territory).
RGR: Alex – you're Executive Director of the Sentry Tournament of Champions (STOC), define your main responsibilities? What's the most important part or parts of your job?
AU: The main responsibility of the Executive Director of the Sentry Tournament of Champions is to help ensure the tournament is a success, which is mainly measured by how much we're able to give back to the Maui community each year. Alongside Amanda, we oversee everything at the tournament, which is akin to managing a small city each year, with everything rolling up underneath us, from sponsor relations, operations, sales, marketing, community relations to communications, charitable outreach, and so many more items. The most important part of the job is to keep the team operating in a way that puts the tournament in the best position to succeed, a job that is made easier when you have an amazing team like we have at this event.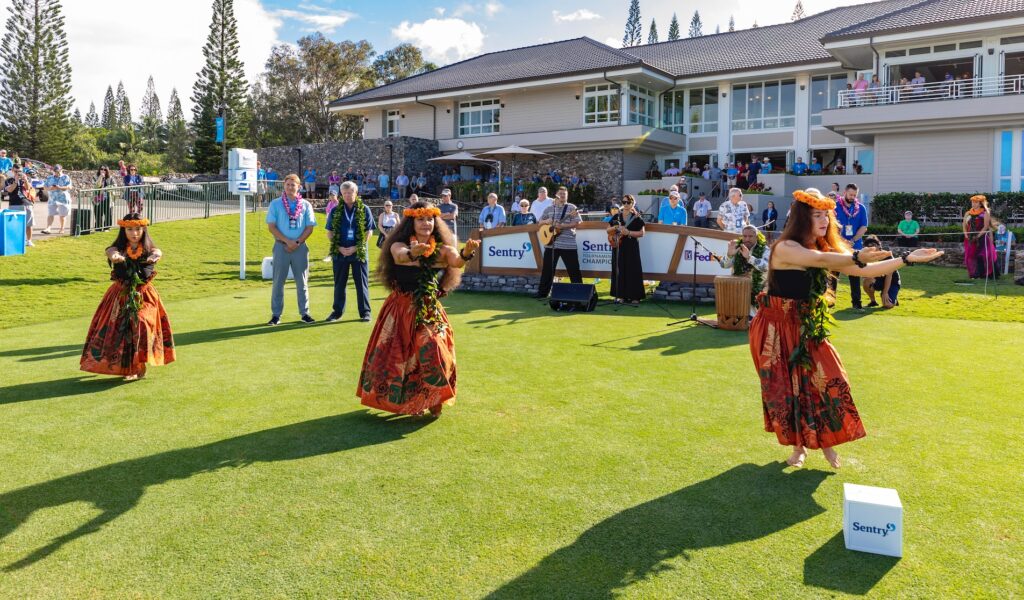 RGR: Amanda – you're Tournament Director of the Sentry Tournament of Champions (STOC), define your main responsibilities? What's the most important part or parts of your job?
AW: Volunteer program, events, player/caddie management, housing, transportation, operations, food & beverage, charity involvement, sponsorship activation, credentials, etc. I would say juggling everything to ensure nothing is missed and everything is working cohesively is the most important part!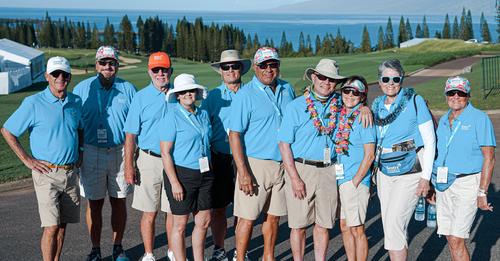 RGR: What is your relationship like with the PGA Tour? Is there a PGA Playbook that needs to be followed for tournament planning and execution? Can you propose original ideas/concepts/special events for STOC?
AU: The Sentry TOC is actually one of the key events on the PGA TOUR that is operated by the PGA TOUR, so both Amanda and I are employed by the TOUR. It is so advantageous, because we both get to see so many other tournaments and learn from some of their best practices on how to optimize things here at our event. There are regulations and things that need to be followed so the 47 events each year are a cohesive part of the FedExCup Season, but we also have freedom to try new things at the tournament.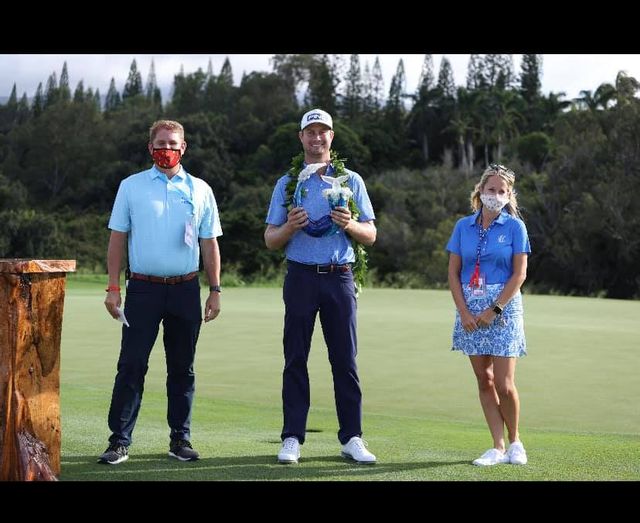 RGR: What is your relationship like with title sponsor Sentry Insurance? How much input does its executives have in the planning stages and tournament week?
AU: We are so proud to have a sponsor like Sentry Insurance at this event. Their commitment to Maui over the course of the entire year is commendable, and they are full of great ideas each year. We work very closely with their team each year to make the tournament a success, and with them signing on for 10 more years at the 2020 tournament, look forward to many more years working with them to make the Sentry TOC better and better.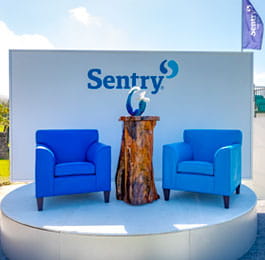 RGR: What is your relationship like with the Plantation Golf Course……especially in December leading up to tournament week/getting the course ready?
AU: Our relationship with the Plantation Course is awesome – we love showing off its incredible layout, design, and scenic nature to fans all over the world each year. We work closely with the course, and they are gracious in helping us in so many areas. Thankfully, the Plantation Course is championship ready year-round, so there isn't too much that needs to be done to get it ready for the winners on the PGA TOUR!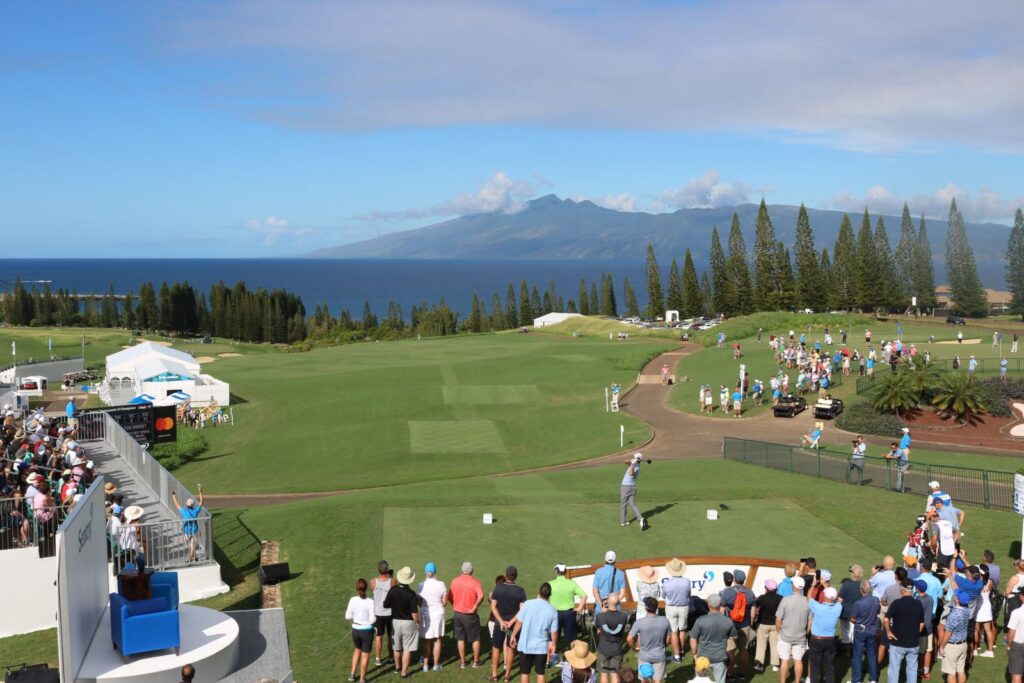 RGR: What is your relationship like with NBC Sports and the Golf Channel?
AU: Our TV partners are central to the success of the Sentry Tournament of Champions. They do such an amazing job of showcasing a massive and dramatic property each year, making it a destination every golf fan needs to visit at least once. From producers and talent to camera technicians and that many people it takes to put on a world-class production, we are proud to work closely with NBC and Golf Channel every year.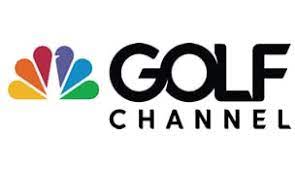 RGR: What is your relationship like with other PGA events around the country? Do you talk strategy with other Tournament Directors and share "what went right, what went wrong, what we could have done better" during the Tour season?
AU: We work very closely with other tournaments – sharing ideas, both of what worked and what didn't, is an invaluable resource as we plan. It's a fun club that Amanda and I belong to, running a PGA TOUR event, and we are always trying to grow our network of other tournament staff members.
RGR: Is it difficult finding and keeping volunteers? How important are the volunteers to the STOC's tournament-week operation and overall success?
AU: I am always amazed at the amazing, dedicated volunteers that are attracted by the entire PGA TOUR, but even more here on Maui. We have a core of volunteers that go above and beyond to help make the tournament possible, and to help it make a difference in the community. One thing that's really enjoyable to watch is the camaraderie of our volunteers each year, with lifelong friendships being created with every single Sentry TOC. Volunteers are vital to the success of the tournament – it's not an overstatement to say they make the staging of a world-class event on Maui possible.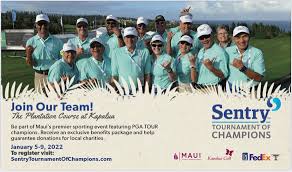 AW: The volunteers are so critical to our operation. We have about 500-550 that register via our online portal and assist with areas like ShotLink, On-Course Transportation, Guest Services, Admissions, Gallery Management, On-Road Transportation, and Supply & Distribution. Our charitable beneficiaries help make up about another 600 volunteers that assist with placing furniture, moving equipment, rope and staking, mesh fencing, stuffing packets, inventory, and so much more. It really is amazing to see the island coming together to pull off the tournament.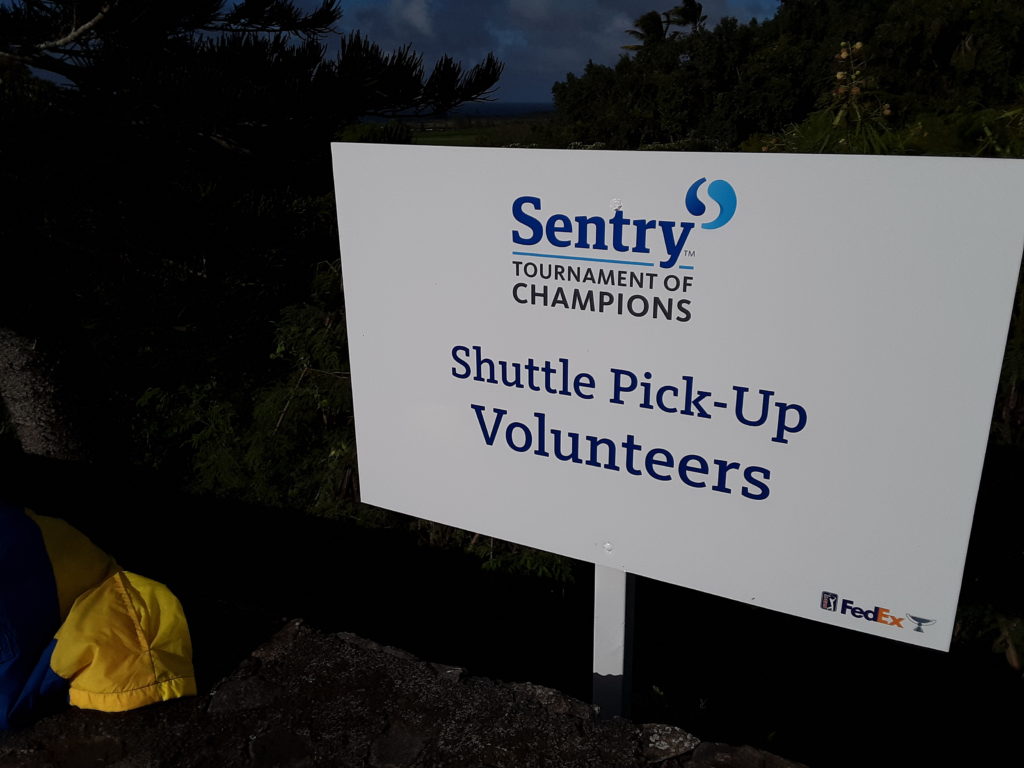 RGR: Tell us some things about STOC planning that the average person wouldn't know?
AU: The average person would be shocked to know just how many people it takes to stage a PGA TOUR event. When all is said and done, from operations crews to TV crews, to tournament staff, it is hundreds of people that make it possible. Add in the volunteers and that number is well over 500.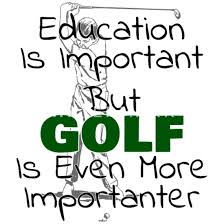 RGR: What's new for 2022 STOC (special seating at the 18th green and more)? Are you hoping to have public attendance and attendees not having to wear masks?
AU: We have a new venue for our clubhouse seating called the Clubhouse Lanai, which we are really excited about for this year. We also have a high-end venue on the 11th hole called The Lookout. We are working closely with the County, State, PGA TOUR and relevant health officials to make sure the tournament is staged in a healthy and safe manner, and we are excited that our outdoor nature will allow us to have fans at the tournament this year.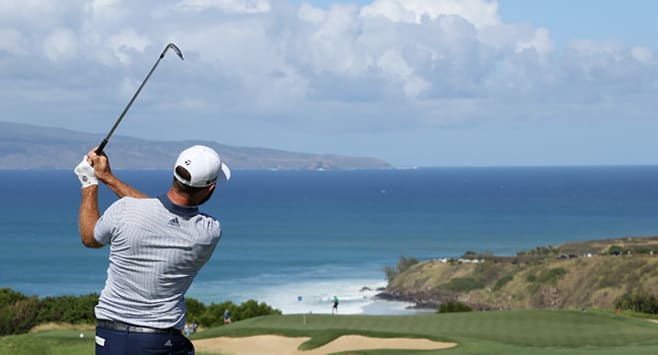 RGR: What is the most fun during tournament week? The most hectic?
AU: To me there is nothing like seeing everything we have talked and planned for a year come together during tournament week and sharing that with our team. The feeling of relief as the last putt drops is always a unique one! The most hectic thing? Everything!
AW: The most fun is seeing some of my co-workers from other parts of the country that I don't often see. Being a remote employee of the PGA TOUR can sometimes get lonely, so it is nice when everyone comes together to support you.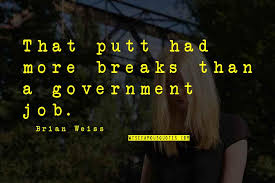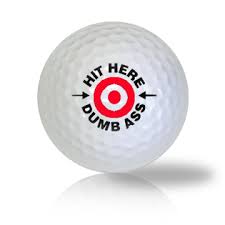 RGR: Since both of you have been involved with STOC can you tell us about a crazy/funny/unexpected goof that happened during tournament week?
AU: There are always things that happen that you can't predict when you work in live events, and I probably have too many to name. But I definitely remember in 2020 when we almost had to go into a Monday finish during the long playoff between Patrick Reed, Xander Schauffele, and Justin Thomas. We were relieved when that tournament ended just before it got too dark to play!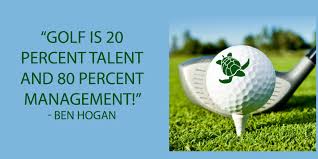 RGR: Alex + Amanda – have you been to all four Majors? What's your golf handicap? What's the strongest part of your game……and the weakest?
AU: I am lucky enough to have attended all four majors, as well as worked several PLAYERS Championships. I have also been to the Ryder Cup and worked several Presidents Cups. As a golf nerd, I have been very lucky! My handicap is 3.1 and the strongest part of my game these days is driving! Putting can ALWAYS use some work.
AW: Nope, but I just was at the ZOZO Championship in Japan and witnessed Hideki win in his home country—that was pretty cool. I like to get away from the golf course when I'm not at work. When I play I'm not competitive and don't keep score.