Thunder From Down Under is a Proven Crowd Teaser
Thunder From Down Under is a Proven Crowd Teaser
For the second consecutive October night, I had to re-authenticate my MAN card before stepping inside the artistic halls of Kelowna Community Theatre.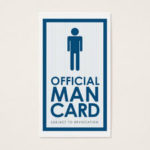 On Wednesday night, it was Menopause The Musical. Hardly any men in the building. It was an estrogen filled total blast. On this brisk Thursday night, it was Thunder from Down Under performing a visual and sensory onslaught that was bloody bonkers! Watching these beefcake boys tear it up in an uptown funk kind of way quickly reminded me that I had forgotten to fine-tune my non-washboard abs. Luckily, wife Elaine was my escort for this high-testosterone teaser accurately dubbed Girls' Night Outback.
Here's what the promos hyped:  Thunder from Down Under was an international hit voted "Best Male Strip Show" for three consecutive years in Las Vegas. It came two-steppin' through Kelowna as part of its Outback Fantasy Tour 2017 that promised to take this male revue to a new level of excitement and eye candy for women of all ages who can transform fantasy into reality with the blink of an eye or unbuttoning of a shirt. Hard bodies and boy-next-door charm included.
Here's what we got:  a late-arriving packed house of literally all women. Seriously, I believe there might have been five guys in the joint and three of them were on the production crew. This was ladies' night on steroids and cheeky concoctions of liquid courage. They came to party, let loose with zero filters, and, not unexpectedly, scream their heads off with unbridled admiration for 90 Magic-Mike-like minutes.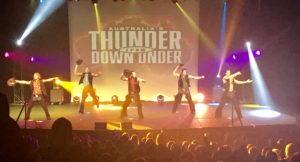 All the hootin' and hollerin' started within the first 12 seconds of the show. That's when emcee Nathan took the stage to gin up the frenzied females (he called one side of the theatre "professionals" and the other side "virgins") and unleash the beasts. The beasts were the five Thunder dancers; I believe their names were Benny, Beau, Beno, Benjamin, and Malik. They appeared in raincoats with umbrellas and started to gyrate to ear-splitting music. Then they started to strip off clothing. Then the screaming got to such high decibels that I thought the Fire Chief might arrive and shut down the old barn.
These dudes were absolutely ripped. It was impressive. How do they stay in such great shape traveling so much? When they yanked off their trousers, all of them were wearing pink g-strings on behalf of Breast Cancer Awareness Month. Talk about playing to your audience. And, of course, when the boys hit the aisles to pose, hug, and tease their adoring fans, the lathered-up ladies were encouraged to tuck paper dollars in their teeny tiny skivvies.
The bumping-and-grinding included skits with Tarzan, military uniforms, a SWAT Team, cowboys, and an old-fashioned TV public service announcement featuring a milkman, doctor, delivery man, business man, and construction worker. During each sexy segment a woman from the audience (there were plenty of volunteers) was brought on stage and treated to a steamy personal lap dance. During one costume change there was a routine pitting three women against each other in a fake "noise-making" contest that cannot be described in a family-friendly review.
Big Finish – all in all, I was thunderstruck at how this show was a fully interactive experience. It was also pointed out that the Thunder boys were all straight, single, and Australian, just in case anyone was wondering. I'm not sure if KCT has ever seen anything before like this performance and with this kind of frenetic audience participation? It might be one for the record books. I certainly hope someone digitally captured it all.