The Naked Magicians Bare All For Cheeky Comedy
The Naked Magicians Bare All For Cheeky Comedy
I'm guessing in the long and distinguished history of Kelowna Community Theatre there has never been a more cheekier show to grace the stage than what happened on a nondescript Tuesday in the middle of April.
I mean, no bare butts about it. The performers on this night basically had nothing to hide. They built their reputation on full-frontal illusions and sleight-of-hand tricks. Abracadabra – now you see it, now you see more of it, now you wonder if and when you'll see them pull a rabbit out of something?!
That was the plot line for The Naked Magicians as they bared their souls (and more) in front of a raucous Okanagan Valley audience anticipating a birthday-suit soiree. As expected, the female-to-male ratio in the room was about 90/10. These ladies came primed for some boy-toy beefcake and got both the steak and sizzle in two lean cuts.
Those two grass-fed sirloins were Christopher Wayne and Mike Tyler, a couple of 30-something blokes from Brisbane who were quite comfortable shadowing the Magic Mike mystique. They're currently on a 60-cities tour of Canada and the United States with an act described as the world's naughtiest R-rated magic show. That's fair. "Sleeves Up, Pants Down" is their tagline. They also believe "good magicians don't need sleeves and great magicians don't need pants."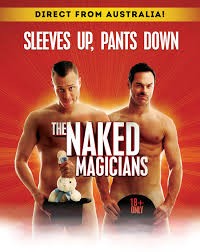 You get the picture. These in-shape showmen are barnstorming North America with their comedy chops and clever card tricks. Look Ma, no pants. What really goes on, and how "nekkid" did they get? Allow me to briefly uncover the truth.
The 90-minute show started off with both Aussies fully clothed. Hey, that's false advertising. Nobody was naked. Didn't seem right. But as the show wore on, clothing started coming off. Audience participation, call them volunteers, was huge. Many of the gags were perpetrated on those volunteers who were more than willing to be lampooned on stage.
The magic tricks were a mixed bag of grinding physical slapstick. The first gag was a big blowup version of male genitalia being batted around by the audience. That led into a mobile phone trick followed by a nifty card trick that the entire audience could participate in. Wife Elaine and I played along, amazingly it worked.
Then came a straight-jacket routine. This was a key moment because by this time the Boys from Down Under were down to their undies. Teeny briefs. Two volunteers strapped them into their jackets, they escaped. Then Christopher went The Fully Monty for a rope trick, his privates covered by a hat being held in place by another blushing volunteer. Mike copied his mate (privates covered, cheeks out, ladies loving it) and The Naked Magicians finally lived up to their saucy billing.
Big Finish – kids, don't try this at home. The coarse language was repetitious and earned the show its 19+ age status. Elaine was expecting more of a burlesque-type performance that was more seductive and less sophomoric. Maybe next time.