The Debaters Role-Play With Cosplay Subculture
The Debaters Role-Play With Cosplay Subculture
Here's the amusing algorithm that provided an un-debatable good time at Kelowna Community Theatre on the first Friday of Spring:  cosplay + wordplay = hilarious horseplay.
Let's break down those three jocular elements. Cosplay, defined as a contraction of the words costume play, means cosplayers wear costumes and accessories to create specific fictional characters in the subculture world of superheroes, film characters, comics, manga/anime, sci-fi, fantasy, gaming, and horror. Favorites include Deadpool, Kitana, Pennywise, Ming the Merciless, Silver Surfer, Syren, Poison Ivy, and Black Canary.
KCT was on board as one of the host sites (along with The Rotary Centre for the Arts, Black Box Theatre, and Okanagan Regional Library Downtown) for the 2018 Kelowna Fan Experience running from March 23-25. KFX, as it is known, is an annual event and regional Mecca for cosplayers who want to strut their role-playing stuff and mingle with their equally passionate peers. You have to see this Marvel-ous March Madness up close to believe it.
Wordplay came courtesy of The Debaters Live and award-winning host Steve Patterson. Patterson is a shoot-from-the-hip master of everything funny and he did not disappoint at Friday night's showdown (not being taped for CBC Radio One). In his opening monologue he spotted an "orange person" in the front row. "That's unusual," he quipped, much to the delight of the almost-packed house. He followed up that observation with a wealth of family-friendly jabs that had the audience in stitches.
Hilarious horseplay was the byproduct of role-playing debaters Evany Rosen and Ivan Decker. These two are well-traveled regulars on the CBC circuit and have the comedy passports to prove it. They each started off the evening with a rare chance, not fitting the normal radio show format, to do a little standup. Their deliveries were well-oiled and spewed a torrent of witticisms that flowed like verbal lava.
Let's review. We had a gaggle of quirky cosplayers in the same building with a trio of un-costumed, cold-blooded comedians. What could go wrong? Nothing. Plenty went right; so much so that one could have mused Wonder Woman using her Lasso of Truth to demonstrate her warrior approval.
Moderator Patterson asked adversaries Rosen and Decker two questions that were the center stage rib-ticklers of the two-hour show. The first, who is the better Star Wars villain – Darth Vader or Kylo Ren? The second, Personal Digital Assistants like Alexa, Echo, and Siri – helpful or annoying? Each debater took a side (advocate or contrary view) and went on the firing line with their bare-knuckle best.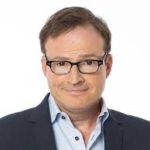 The first question was a dud for me. I'm not a Star Wars fan and know little or nothing about the franchise and its characters. Really, it's true. Darth Vader has been around for decades. Kylo Ren is fresh on the scene. Big whoop. Next question.
Rosen pulled off the best line of the night. When addressing the PDA conundrum, she got a monstrous laugh with "don't expect a real man to do a fake woman's job." It was so sarcastically strong that I wrote it down for possible use in the future.
Big Finish – Patterson deserved a big thumb's up for his delightful bit about altering the Canadian National Anthem. He interspersed his own politically correct words and eventually sang his version aloud. It was fearless and funny and received one of the biggest roars of the night. Surely CBC must have a recording of it for sharing?