The Debaters – Don't Touch that Dial for Rowdy Radio Comedy
The Debaters – Don't Touch that Dial for Rowdy Radio Comedy
Who knew that the microwave oven has been around for 50 years?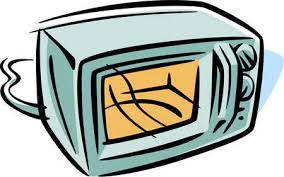 Thanks to CBC Radio One and The Debaters, this little-known fact was one of many my wife and I were thoroughly entertained by on the first night of November at Kelowna Community Theatre. During the live taping of the three-hour radio comedy extravaganza, in front of a packed house that came primed for an evening of laughter and logic, we got a behind-the-microphone tutorial on how they produce the broadcast, how they prompt the audience, and how they set the stage for comedic creativity.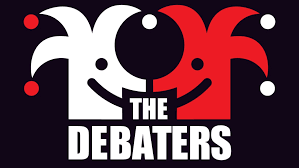 Leading this captivating collaboration was show host and maestro moderator Steve Patterson. An award-winning stand-up comedian and humor writer, Patterson had the audience busting a gut early with a slick preamble of Okanagan Valley-based one-liners and jabs. No laugh track needed. He knew his demographic well and set the funny-bone mood before the first debaters entered stage right.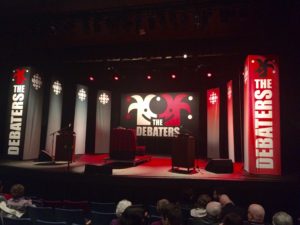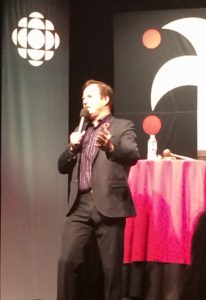 Since this was my first go-round with The Debaters, homework was mandatory. I went online and listened to a few recent shows for format lessons. On this school night, six topics were chosen and two comedians were assigned to do battle on each topic – one would be the advocate and the other would take the contrary viewpoint.
There were four rounds to each debate. The first round allowed each comedian to state their position on the topic, which was followed by the "bare-knuckle round" where the two debaters sparred with each other directly. This was followed by the "firing-round" where Patterson quizzed the debaters on their knowledge of the topic. Things finished up with a one-minute summation. The live audience then voted by applauding the loudest for each debate-topic winner.
These were the six topics and 12 debaters:
Indoors vs. Outdoors  –  Don Kelly and Dean Jenkinson
Delete Facebook  –  Paul Myrehaug and Kathleen McGee
Microwave Ovens  –  Ivan Decker and Graham Clark
Cashless Society  –  Erica Dawn Sigurdson and Charlie Demers
Las Vegas Bad for the NHL  –  Trent McClellan and Damonde Tschritter
Hot Tubs  –  Derek Seguin and Katie-Ellen Humphries
Once the verbal play got underway, it quickly turned into a non-stop laugh-factory refereed expertly by Patterson. The comedians were privy to their topics beforehand and brought superb material that kept the audience in stitches. With a smattering of teens and pre-teens in the room, the commentary was surprising clean and radio-friendly for the show's 700,000 weekly listeners.
For my money – the night's comedy kingpin was the very-tall-and-bearded Myrehaug. His wrecking-ball timing and delivery was hilarious for the ears and eyes. He stole the show with his anti-Facebook "facts" (you gotta hear him say that word!) and how Mark Zuckerberg is the devil incarnate. It was so absurdly amusing that I'm hoping to re-listen to the segment when it hits the airwaves later this month.