Tanya Tucker Brings Delta Dawn to the Okanagan
Tanya Tucker Brings Delta Dawn to the Okanagan
Here are three words you probably never ever thought you would hear in the same sentence – Tanya Tucker and Kelowna.
Well well well – grab your cowgirl and hold her tight. It happened. Right there in the middle of the stage at Kelowna Community Theatre. On a school night. In front of an enthusiastic crowd that wanted to saddle up for a hayride down Delta Dawn lane. Country music legend Tanya Tucker belting out her signature hits and classics in a toe-tappin' version of March Madness.
Yee haw. No brackets needed. Her songs were soulful and sassy and fans were gobblin' them up like a bison burger with cheese fries. While Tucker was never billed as the coal miner's daughter, she persevered through self-inflicted hard times and clawed her way to country music's penthouse. Along the way she lassoed 23 Top 40 albums, 56 Top 40 singles, 10 #1 Billboard hits, and at age 15 was on the cover of Rolling Stone magazine.
That's a lot of material. That's a rich history. By her own admission, Tucker was not going to win any music awards on this Thursday night. She arrived in the Okanagan coming off a stomach virus and was not firing on all cylinders. Her voice was strong, but between songs she mumbled a few stories and accolades and seemed, in my opinion, to be weary and slightly over-medicated.
But the show must go on. And it did. Tucker's six-piece band (all dudes) was outstanding. I especially enjoyed the fiddler – this guy picked like a pro and roamed the stage like he was having a total blast. His enthusiasm was infectious. Oops – maybe not the best adjective to use on this night?!
According to my count, Tucker warbled through 18 songs in an 80-minute set. They came from different decades and writing partners, and included:  If Your Heart Ain't Busy Tonight, San Antonio Stroll, Texas (When I Die), Love Me Like You Used To, Would You Lay With Me, What's Your Mama's Name, Strong Enough To Bend, Little Things, Ramblin' Fever, and finally…………..Delta Dawn.
Opening the show was up-and-coming cowboy crooner Ben Klick. The kid, and I mean this guy was barely out of high school, lives in Kelowna and came on stage in classic cowboy gear. It was his first time to sing at Kelowna Community Theatre and first time in front of such a large crowd. He sang three original songs, one of which was called What's Going On. It will be released as a single in June 2017. For a young pup, he had excellent stage presence and communicated confidently with the crowd.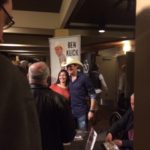 Big Finish – we didn't get to see or hear the best of Tanya Tucker.  I would describe her as a balladeer who wrote a lot of lyrics about her lonely life. Cheer up, girl. What I was most surprised about was the lack of cowboy hats, boots, and big belt buckles in the building. Guess there aren't that many cowpokes riding shotgun around the lakefront and wineries.