Seasoned Sounds of Frankie Valli Visit the Okanagan Valley
Seasoned Sounds of Frankie Valli Visit the Okanagan Valley
Big Girls Don't Cry – unless they had something better to do on Good Friday Eve and missed the Oh What a Night! Musical Tribute to Frankie Valli and the Four Seasons at Kelowna Community Theatre.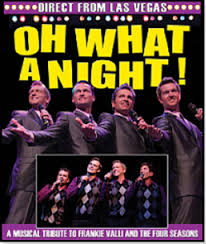 Let's be fair. Any female named Sherry should have gotten in for free. Ditto for any attendee who brought a Rag Doll or was inclined to Walk Like a Man. You get the picture, Valli and his Jersey boys cranked out a ton of memorable hits back in simpler times when radio ruled and hashtags didn't. These oldies-but-goodies were masterfully performed on Thursday night by four clean-cut, well-Seasoned dudes identified as Rick, Andy, James, and Peter.
Well done, gentlemen. This old-fashioned song-and-dance serenade was fast-paced and highly entertaining from start to finish. The gags were a little corny between songs, but they clicked the cod liver oil crowd. As we were briefed during an opening announcement, the suave foursome had just flown into Kelowna that afternoon from Las Vegas on WestJet. This was the first stop on their Canadian tour and they came out blazing hot like Edmonton Oilers hockey fans.
Oh What a Night! brought the heavy lumber early – Oh What a Night, Sherry, and Big Girls Don't Cry were in the books before latecomers were seated. The Valli Boys were nattily dressed in shiny gray suits, black shirts, white ties, and not a hair out of place. From there they rolled the dice with chart-toppers Candy Girl, Big Man in Town, and Tell it to the Rain.
Wife Elaine especially enjoyed the a cappella version of Silence is Golden as the fab four hit the jackpot with their ultra-smooth rendition. I got a kick out of their performance of the title song from Grease. Rick took the lead and did a somersault and back flip on stage (all without splitting his trousers). He also hit the audience with this factoid – Falsetto Frankie was the lead singer on the Grease title track and the Bee Gees were the backup band.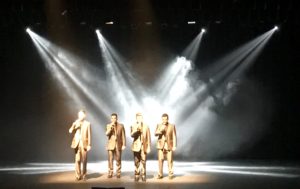 Right before intermission, the lads killed it on My Eyes Adored You, Working My Way Back to You Babe, and Valli's biggest disco hit Who Loves You Baby. After intermission, they came out in classic sweater vests and kept up the pace to cover 27 total songs. They hit snake eyes with Let's Hang On, See You in September, Uptown Girl (tribute to Billy Joel) and dazzler Can't Take My Eyes Off You.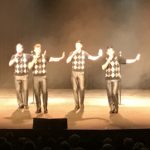 Big Finish – the four voices were sharp as a tack and as diverse as Justin Trudeau's immigration plan. The choreography was campy and wouldn't land anyone on Dancing with the Stars. This show definitely catered to the Early Bird Special crowd – it started at 7:00 PM and was over at 8:48 PM. At intermission, it was still light outside…..and it's only mid-April!