A Turntable of Good Vibrations and Temptations
A Turntable of Good Vibrations and Temptations
Sugar pie, honey bunch –  I Heard it Through the Grapevine it was time to Twist and Shout!
On the 13th night of November at the Kelowna Community Theatre, my wife and I took a listen down memory lane thanks to a fully staged and choreographed toe-tapper touted as Four by Four. The musical montage earned its moniker this way – four supremely talented dudes singing, dancing, and bantering their way through a lively tribute to the music of The Beatles, The Bee Gees, The Beach Boys, and Motown.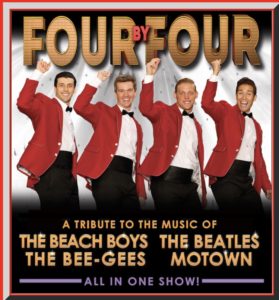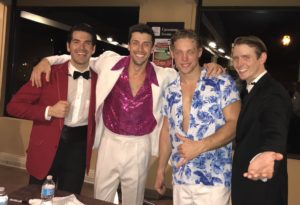 By official count – headliners Colin, Tim, Drew, and Katch breezed through 48 classic songs and four outfit changes. I almost pulled a hammy just watching. The two-hour performance, with one 15-minute intermission, served up a catchy mix of good vibrations that made you want to turn to your partner and sweetly say "I Want to Hold your Hand."
At the top of the show one of the gents made an interesting point – all three boy bands being featured played their instruments, sang, and never danced. So how do you build a peppy song-and-dance routine around these stuck-in-the-mud musicians? Let's just say these chaps found a way and brought sunshine on a cloudy day and rainy night.
The Beatles got top billing and Let it Be known that a jukebox of fan favorites was on the menu. The fab four (not from Liverpool) took the stage looking natty in black suits with skinny black ties. Heads were bobbing in the audience as they sang oldies such as Yesterday, Yellow Submarine, and Eleanor Rigby. Wonder if Paul McCartney and Ringo Starr know how to cut a rug?
The Bee Gees came next. The fellas paid tribute to their disco look and sound with white suits and bright red sparkly shirts. Jive Talking was the appetizer, the main course was Tragedy, Night Fever, You Should Be Dancing, and Stayin' Alive.  Wonder if John Travolta has his original hips?
After intermission, the foursome came out in blue Hawaiian shirts and white slacks and ripped right into Surfin' USA, California Girls, Help Me Rhonda, and Barbara Ann. The showstopper for Elaine and I was a sweet-sounding version of Good Vibrations. Kudos for putting extra energy into this iconic ditty. Wonder if Brian Wilson and his brothers used to hang ten?
Stop! in the Name of Love – Motown songs were last, but not least. The preppy Pips were clad in red jackets, black slacks, black bow ties, and black cummerbunds. The mostly 60+ crowd responded loudest to Tears of a Clown, Ain't too Proud to Beg, My Cherie Amour, and many others. By the time Twist and Shout finished up the evening – wonder what Stevie Wonder would think of all this?
Not to miss a beat, the performers reminded the Kelowna audience that they'll be back in town on Thursday, April 17, 2017 for a different night of nostalgia. It will be "Oh What a Night! – a musical tribute to Frankie Valli and the Four Seasons. Tickets are available now.