Paddleboarders Take a Spill for Pihl and BrainTrust Canada
Paddleboarders Take a Spill for Pihl and BrainTrust Canada
Okay – that was a lot of water-logged family fun.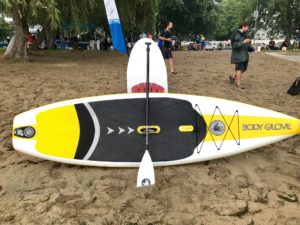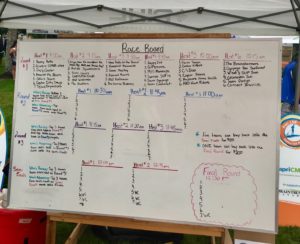 On a super overcast August Sunday morning at Rotary Beach Park, BrainTrust Canada held its 4th Annual Pihl Law Paddle for Prevention and board-shorts battle to the buoy and back. All the requisite aquatic tools were provided for this competitive beach jamboree – beautiful-and-calm Okanagan Lake, seven paddle boards and paddles, seven paddling lanes, seven stationary buoys, and the seventh-heaven smooth sounds of emcee and man-about-town Ron Cannan.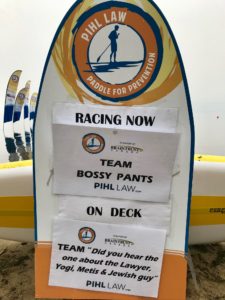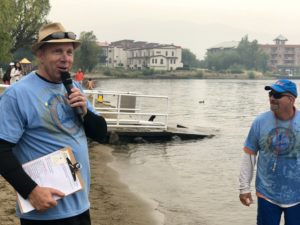 This was no ordinary board meeting with legal razzmatazz and video-conferencing. There were 37 teams (four members per) with one singular mission – slide onto a paddle board and paddle as fast as you can straight to your buoy, gingerly steer around the red orb, then dryly head back to shore. All this without falling off your slippery sled in splash-tastic infamy, losing part of your team gear (there were Viking helmets and plastic farm animals), or embarrassing your family.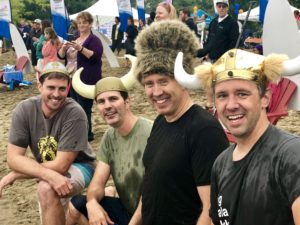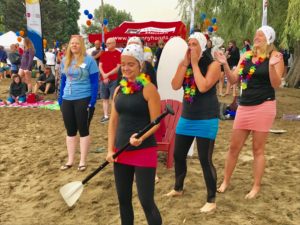 I had the privilege of being the volunteer starter and board-turner in Lane 1. Once each heat got underway, I had the long view across the water of all the lanes and athletes. It was hilarious and wobbly at times. There were competitive teams and some that were out to have a good time and take selfies. After all, everyone was really at the beach on this day to support BrainTrust Canada and the 1 in 10 Canadians who are affected by brain injury.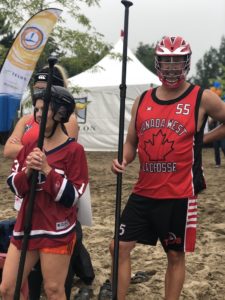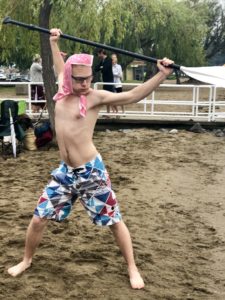 Some of my favorite team names were:  Odin's Scorn (the Vikings), New Kids on the Board, Ogopogo has Surfaced, Costco Dirty Dawgs and Costco Kitties, and Telus Torpedoes.
In what I would describe as the Grey Cup Near Manteo, the coveted Golden Paddle was won by The Hustlers. These four dudes were in my lane for the finals when they took home the whole enchilada. They literally crossed the finish line half-a-second ahead of Odin's Scorn. Some would say it was a bitter Pihl to swallow.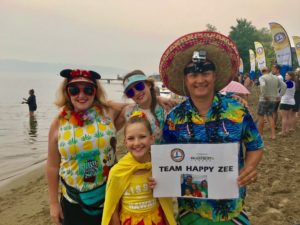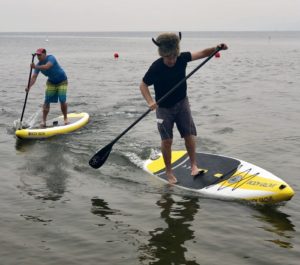 No lawsuits were filed. No replay was needed. Everyone shook hands and eventually went to the snack bar for a veggie burger or dog lunch provided by the Rotary Club of Kelowna Sunrise.
Story update on 8/14:  according to BTC's Magda Kapp, the paddle board Pihl-fest raised $47,000 for the charity. Funds are allocated toward programs to support those with brain injury in the Okanagan, as well as reducing preventable brain injuries for youth, as they are at the highest risk.