Okanagan Symphony Orchestra Spooktacular Was a Macabre Mash of Treats
Okanagan Symphony Orchestra Spooktacular Was a Macabre Mash of Treats
They did the mash…….they did The Monster Mash……. it was an Okanagan Symphony Orchestra and Chorus smash…..it caught on in a flash.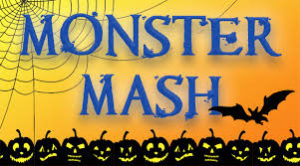 Good goblins, that was a frightfully good Halloween SPOOKtacular performed with devilish depravity at Kelowna Community Theatre a few nights ahead of trick-or-treaters taking over the streets. The sold-out house was treated to a Saturday night special 2-for-1 deal that saw the Okanagan Symphony Orchestra and OSO Chorus performing together on one stage. Saying the KCT stage was jam-packed with talented artists was attuned to saying kids like candy.
But there was more. The evening's guest artist was Christopher Gaze, Founding and Artistic Director of Bard on the Beach which is the annual Shakespeare festival that runs from May to September in Vancouver. His fiendish vampire role, at stage front, was doing spooky readings between pieces and joining in for the final number. As an accomplished actor and narrator, he sounded like the British version of Vincent Price.
On my scorecard, this show got an A+ for creativity. I believe everyone on stage, including the Maestra, narrator, orchestra, and chorus, was costumed. We're talking bats, vampires, witches, werewolves, pirates, scary brides, and more. The front of the stage was adorned with a row of lit jack-o-lanterns and there were two ghouls hanging above the orchestra. BOO-ya to the stage manager and helpers for setting the mood.
OSO Musical Director Rosemary Thomson (costumed as a bat) had these comments after the show. "It was amazing to see all the people and props come together on stage. We had orchestra and chorus members coming to dress rehearsal this afternoon in full makeup. Everyone bought into the SPOOKtacular theme and that made it an extremely fun night."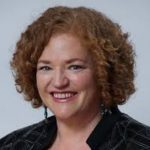 Thanks to the evening's playbill, it was easy to follow along with the musical numbers. The OSO started scary hot with Carmina Burana: O Fortuna, a piercing arrangement that was loud and chillingly familiar. When the chorus kicked in, the ghoulish intensity was ratcheted up several notches. It was my favorite piece of the evening, until the universally known (and aforementioned) encore.
Other works before intermission included Danse Macabre, Witches' Chorus from Macbeth, and Night on Bald Mountain. The orchestra was spectacular. The chorus was powerful. The narration was creepy. I'd say the audience was wholly engrossed in this smoldering cauldron of eye-of-newt and wool-of-bat ingredients.
After intermission, movie music took over. There was Music from Dracula, Psycho Prelude and Murder (voted the scariest movie score of all time), Music from Harry Potter, and The Raven ("Once upon a midnight dreary….while I pondered, weak and weary"). The Raven was a world premiere created composer Gary Fry specifically for Thomson and OSO. The verbal highlight was Gaze solemnly uttering Nevermore, the single word immortalized in the poem by Edgar Allan Poe.
Big Finish – before final curtain call, Thomson had a twinkle in her eye when she teased one last surprise. It was The Monster Mash. Everyone pitched in and clapped along during this rousing symbolic send-off to a Frankenstein-like evening.