Okanagan Symphony Orchestra Gets Wordy With Verdi
Okanagan Symphony Orchestra Gets Wordy With Verdi
If I told you wife Elaine and I voluntarily spent two hours of our Friday evening listening to choral outpourings of grief, funeral marches, incendiary strings, and convulsing drums, you might think we attended one of the darkest musical dramas on the planet.
On the contrary, we became engrossed in a Latin Mass for the Dead that is classically known and universally revered as Giuseppe Verdi's "Requiem." Many have called it an opera in church clothing, while others say it lends the drama of opera to a deeply personal expression of sorrow. No matter what, the program was powerful and moving and primal and came with a gondola of moving parts.
Those moving parts were: the Okanagan Symphony Orchestra (OSO), the 150-voice Okanagan Symphony Chorus, and four of Canada's leading operatic soloists – Tracy Cantin (soprano), Lauren Segal (mezzo-soprano), Justin Stolz (tenor), and Justin Welsh (baritone). This entire ensemble was crammed onto the stage at Kelowna Community Theatre for the OSO: The Chase Wines Masterworks II – Requiem.
"When you simplify things, we spent the evening playing the music of Joe Green," said OSO Music Director Rosemary Thomson. "Verdi was a rock star in his day; he was the Paul McCartney of Italy and people adored his compositions. What was extra special about this musical choice was performing it in commemoration of the 100th anniversary of Armistice Day."
Speaking from the packed stage to a packed house, Thomson graciously opened the show by providing a Cliff-Notes version of what we were about to hear and experience. Messa de Requiem had seven movements, two before intermission and five after. The second movement has 10 sections that voiced expressions of wrath, storms, and tearful days. Not exactly chart-topping jingles that made you want to get out of your seat and boogie in the aisles.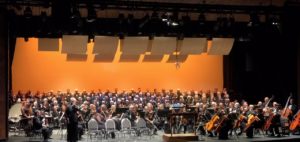 To a non-expert in the nuances of opera, the storytelling and flow was complicated and hard to follow. Verdi, who penned 28 operas, was Italian, but the four soloists and chorus sung mostly in Latin. How does that happen? Who did the translation in the late 19th century when there were no language apps or Internet tools?
There were several bright chords in the solemn symphony. All the stage performers had a red poppy pinned to their left lapel or left side of their blouse. To my eyes, this synchronized display stood out and spoke to Remembrance Day weekend. The featured soloists were outstanding with their powerful ranges and striking confidence. Thomson added they had never performed together and had only met on the Tuesday before the show.  They made it work, true professionals.
I'm a crossword-puzzle geek. One of the recurring dirges in the show was Dies Irae (Day of Wrath). I can't tell you how many times the clue "Dies ______" has appeared in a New York Times crossword. Repetition taught me the correct answer. I never researched where that answer came from or what it meant. Now I know. Grazie to Verdi for the educational enlightenment.