Okanagan Symphony Orchestra Brings its A-Game for the Three B's
Okanagan Symphony Orchestra Brings its A-Game for the Three B's
On the last full day of Summer 2018, the Okanagan Symphony Orchestra (OSO) kicked off its 59th season with a splendid triple-threat rendition of "Bach to the Future" at Kelowna Community Theatre.
Actually, Bach was just the first German composer out of the barn on this rainy Friday evening. His works were followed by those of Beethoven and Brahms and culminated in the concert's marquee banner, OSO: The Chase Wines Masterworks I – the Three B's! These Three B's were definitely not the Three Amigos, because, according to OSO Music Director Rosemary Thomson, they lived almost 150 years apart in time and musical genre. They never knew each other, but Brahms certainly was familiar with the classical works of his predecessors.
Before the first note was played, Thomson offered the almost-packed house a short-and-sweet historical lesson. Bach (1685-1750) was during the Baroque period and his works were all about "shall we dance." Beethoven (1770-1827) came in during Classical times and pushed the boundaries during his 4th Piano Concerto by starting the piece with solo piano. Brahms (1833-1897) contributed to the Romantic period with music that was full of joy and infused with nature.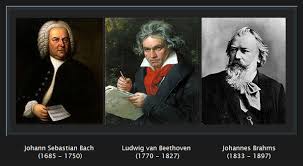 Getting the beat going was Johann Sebastian Bach and his Suite No. 1, BWV 1066 in C Major. After an opening overture, the OSO waded through six dances – Courante, Gavotte I & II, Forlane, Menuet I & II, Bourrée I & II, and Passepied I & II. The melodies were delightful, it was easy to imagine men in wigs and heels dancing with women in hooped dresses. Interestingly, during all these dances the string instruments were dominant and no percussion was played. The orchestra itself was smaller than normal in musicians as a representation of simpler times.
Up next was the Ludwig van Beethoven segment that brought out the evening's featured artist – renowned pianist Jane Coop. Her résumé is stacked – she was a senior professor and Head of the Piano Division at the University of British Columbia's School of Music in Vancouver, she has played at live events in more than 20 countries, and in December 2012 was appointed to the Order of Canada, the country's highest honor for lifetime achievement.
Pretty sweet credentials, and Coop lived up to all of them by joining the OSO troupe in playing Piano Concerto No. 4, Op. 58 in G Major. Watching her solo and go end-to-end on the keyboard was magically delicious. Her fingers waltzed across the keys and her head bobbed in perfect unison. As advertised, this wasn't her first rodeo and that Steinway she woman-handled will never be the same. By the time Coop had ripped through three movements of the Concerto, Allegro Molto, Andante Con Moto, and Rondo Vivace, a rousing standing ovation was well-deserved.
After intermission, Johannes Brahms finished out the night as the orchestra played his Serenade No. 1, Op. 11 in D Major. This included four movements, Allegro Molto, Adagio, Scherzo II, and Rondo, that Maestra Thomson described as rich with clarinets, hunting horns, and vibrant harmonies. Rondo, she added, would feel like the audience was riding a horse and galloping along.
She was spot on. The audience was saddled up for the grand finale after a heart-on-a-sleeve kind of night that reminded me of a Hallmark greeting card that played a classical tune upon opening it. The iconic Three B's were still marking their territory in the modern dance halls of Bieber, Beyoncé, and Bublé.