Okanagan Symphony Orchestra Aces its French Connection
Okanagan Symphony Orchestra Aces its French Connection
On the final Friday of November, the Okanagan Symphony Orchestra brought a certain power and panache to its live orchestral performance of The French Connection – Masterworks II at Kelowna Community Theatre.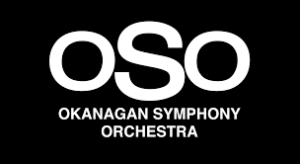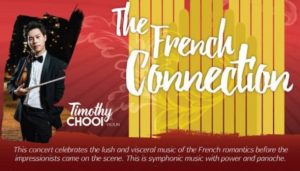 This buzz worthy concert celebrated the lush and visceral music of the French romantics before the impressionists came onto the scene. The program, as selected by OSO Music Director Rosemary Thomson, included these diverse works:  Les Troyens Chasse royale et orage (Royal Hunt and Storm) by Hector Berlioz, Symphonie espagnole (Spanish Symphony), Op. 21 by Edouard Lalo, and Symphony No. in C minor, Op. 78 "Organ" by Camille Saint-Saens.
Oui oui – the 650 attendees in the theatre thought these vibrant movements and hybrid sounds were très bien. But without a doubt, everyone left the building raving about solo violinist Timothy Chooi (pronounced chewy), his esteemed instrument, and the thunderous power of an imported pipe organ.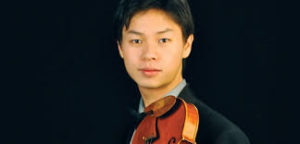 After the opening movement by Berlioz that featured two set of timpani and hunting horns, onto center stage stepped the Victoria born-and-raised Chooi. At the youthful age of 23, this millennial has the stage presence of a seasoned gunslinger. Even better, his weapon of choice was a 1717 Windsor-Weinstein Stradivari violin made 300 years ago by Italian violinmaker Antonio Stradivari. Valued at $5.5 million (U.S. dollars), the violin is on loan to Chooi to utilize for three years via the Ontario Heritage Foundation and Canada Council for the Arts.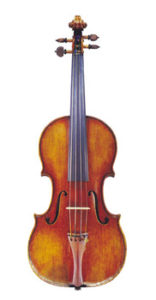 Obviously, Chooi took to this prized possession like Gretzky took to the ice. During four movements of Lalo's Symphonie espagnole, he dazzled with a spectacular performance that made the violin sing like a songbird in love. It was so impressive that most of the audience jumped to its feet and applauded non-stop when he played the final note. Then, almost showing off in a good way, the orchestra went silent and Chooi ripped through a soulful serenade for eight minutes. This young man was mesmerizing and certainly has a firm grasp on the bow strings of his skyrocketing career.
After intermission, it was time to get "organ"-ized. For the Saint-Saens symphony, Thomson and her team called on Allen Organ in Calgary and asked them to ship in a pipe organ to Kelowna. What they received was a digital device with super high-end speakers to replicate the individual pipes. The expression "to pull out all the stops" comes from the organ having all of its colors engaged. At the end of this night, you could feel the powerful pipe-estry in the soles of your feet and depths of your soul.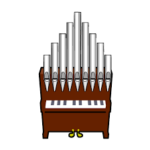 Big Finish – on December, 22 at Kelowna Community Theatre, the OSO will finish out the 2017 part of its season with a Christmas card entitled Ringing in the Season. Joining the OSO on stage will be the Okanagan Handbell Chorus, BC's most elite hand bell ringers for an evening of Joy-to-the-World carols to celebrate the holiday season.