Menopause the Musical Playfully Addresses The Change
Menopause the Musical Playfully Addresses The Change
As a dude, and not part of any sisterhood or female think tank, I entered Kelowna Community Theatre on the third Wednesday of October with a teaspoon of trepidation. Would the all-star Canadian female cast of a wildly popular musical seen by more than 11 million people around the globe really be singing and dancing about things like menopause, hot flashes, mood swings, and nocturnal sweats?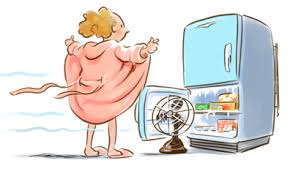 Yes, indeed, they were and they did. What a hoot! Wife Elaine and I had the extreme pleasure of taking in MENOPAUSE THE MUSICAL® (The Hilarious Celebration of Women and The Change!®) during its one-night quickie in Kelowna. It was a joyful exploration and delightful ball of fire. I would guesstimate that the sold-out house, mostly made up of women and an ultra-slim smattering of male companions, felt the same way based on laugh-o-meter results during the 90-minute live production.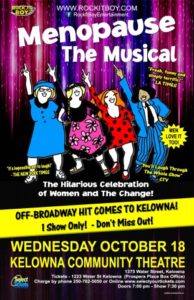 I almost blushed a few times, but it was too dark in the theatre to notice. How else could I explain this off-Broadway sensation that starts off in a department store where four women have a chance meeting over a black-lace bra? Yowza – talk about wading into unchartered waters?!  It gets better. This day was National Menopause Day 2017. How's that for irony and serendipity in the Okanagan Valley.
So the four leads start out at Bloomingdale's in New York bumping elbows at the lingerie table. They each have a signature look, role, and sound. They were the entire kit and kaboodle, and they were superb:  Jayne Lewis (Soap Star/Dance Captain), Janet Martin (Iowa Housewife), Nicole Robert (Earth Mother), and Michelle E. White (Professional Woman).
This quartet of quirkiness spent the entire evening, how do I put his delicately, vocally expressing their feelings about THE CHANGE while amusingly demonstrating the woeful trials and tribulations of reaching middle age. I now understand that this so-called "state of confusion" affects the mind, body, and soul of women in different ways. Apparently "I'm Having A Hot Flash" moment is common to most, but not all. Hang on and pray.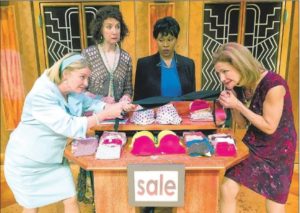 I was struck by the creative brilliance of this rib-tickler. The sets and plot were simple. The divas commanded our entire attention. Each of them brought a striking charisma and charm to their roles. Their chemistry was palpable. They each shared pieces of the playlist pie, belting out a total of 25 familiar-sounding songs that were cleverly altered with lady-business lyrics.
For example, Stayin' Alive (became Stayin' Awake), California Girls (became Wish We All Could Be Sane and Normal Girls), My Guy (became My Thighs), and Lookin' For Love (became Lookin' For Food In Too Many Places). There was also one distinct verse worth remembering, "Lookin' For A Pill Not To Kill." It went on like this all night. These ladies were total champs. No wonder this physical comedy has worldwide appeal.
Big Finish – the final number was New Attitude, it represented the culmination of life experiences and expressed that women are proud of who they are in spite of some of the difficulties they endure. Several groups of women attending were wearing red hats. Found out they were representing The Red Hat Society, a playgroup for women created to connect like-minded women, make new friends, and enrich lives through the power of fun and friendship. They certainly picked the right musical that embodied their platform.