Mamma Mia! is ABBA-Lutely a Musical Delight
Mamma Mia! is ABBA-Lutely a Musical Delight
If Alex Trebek and Jeopardy came to Kelowna this month to tape a week of shows, this back-and-forth gamesmanship would be a possibility:
Colin – "I'll take ABBA songs for six hundred, Alex."
Alex – "what charming romantic comedy musical featuring an ABBA hit parade of songs and dancing queens will be rockin' Kelowna Community Theatre for 11 August performances?"
Colin – "what is Mamma Mia!?"
Alex – "well done, Mayor."
Colin – "thanks, Alex, you're a Super Trouper."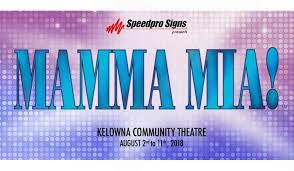 Okay – that's a little far-fetched, but it's 11:30 PM on a boiling-hot Wednesday night and I've got several ABBA ditties ping-ponging in my cranial cortex. How did this happen? Wife Elaine and I were invited to the final dress rehearsal of Mamma Mia! at KCT and it was quite a captivating and colorful two-hours of Broadway-worthy madness.
Take a bow, Kelowna Actors Studio. You deserve it. You nailed it.

Early on we were advised this was a milestone night for KAS – after being in business for 15 years this was its 100th production. Equally as impressive, according to Artistic Managing Director Randy Leslie, was that "95 percent of the 33-person cast was from the Kelowna area." All this homegrown talent gave a golden-buzzer performance. Is it possible the next Meryl Streep or Colin Firth is being groomed on Ellis Street?
The universally revered Mamma Mia! storyline is a Honey Honey hootenanny. A mother. A daughter. Three possible dads. A wedding. A Mediterranean island setting on the Aegean Sea. A trail of parental confusion. A gyro happy meal of girl-meets-boy hilarity.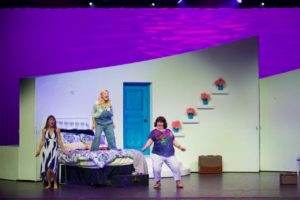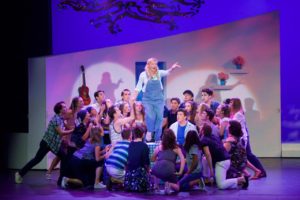 The KAS actors who filled the Does Your Mother Know marquee roles were:  Anna Jacyszyn (as Donna Sheridan), Sidney Cummings (Sophie Sheridan), Delphine Litke (Rosie), Laura Lebbon (Tanya), Andrew De Pieri (Bill Austin), Desmond Parenteau (Sam Carmichael), Nate Flavel (Harry Bright), Celeste Catena (Lisa), Julia Chambers (Ali), and Vinny Keats (Sky).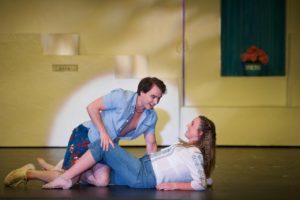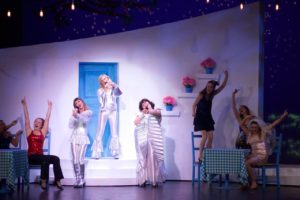 Playing supporting roles behind the scenes were: Music Directors Roslyn Frantz and Spencer Bach, Stage Manager Kaitlyn Allison, and Choreographer Jennifer Davies. What struck me most throughout was the vibrant costuming. It was bright and loud and authentically ABBA-ish. Credit to Costume Designers Hazel Rodgers and Lori Lawler for doing amazing work with spandex and other shiny things.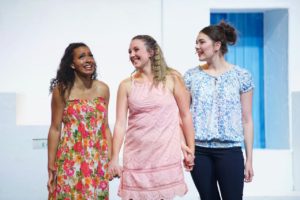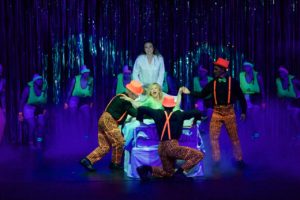 "This is a high-energy show and every minute on stage is fun personified," said Jacyszyn after curtain call. "Our vocal chops are strong, the costumes are bold, and we have a superb cast. I believe the audience can see we're thoroughly enjoying ourselves. We're ready for sellout crowds to feel our ABBA vibe."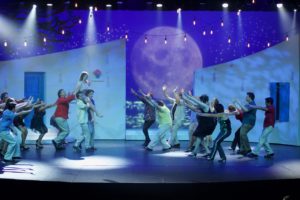 "Who doesn't love ABBA," added proud as a peacock Leslie after the show. "Tonight's performance was amazing. The cast's energy and vocals were sensational. I can't thank my artistic staff, stage crew, and volunteers enough for all they've done."
The ABBA vibe was the evening's common thread. Acts I and II sandwiched in 25 musical numbers, including the three-piece Mamma Mia, Dancing Queen, and Waterloo grand finale performed admirably by the entire cast. My favorite toe-tapping, song-and-dance singalongs were Money, Money, Money (In A Rich Man's World), Super Trouper, Lay All Your Love On Me, The Winner Takes It All, and Take A Chance on Me.
Official opening night is Thursday, August 2 and the live production runs through Saturday, August 11th. Evening shows start at 7:30 PM. On Saturday, August 4th and Saturday, August 11, there are matinee shows at 1:00 PM. The theatre will be dark on Monday, August 6th.