Mamma Mia – Calling Every Dancing Queen and Super Trouper
Mamma Mia – Calling Every Dancing Queen and Super Trouper
"There was Something in the Air that Night…..Fernando"
On a cool and crisp Friday night in mid-September, Kelowna Community Theatre hosted a doubleheader  of dance beats that featured Ryan Langevin as the Piano Man, a tribute to the music of Billy Joel and Elton John, and ABRA Cadabra, a tribute to the music and magic of Swedish super group ABBA.
If that sounds like a lot of show, it was. The two-hour-and 50-minute performance was a well-filtered trip down memory lane that, by my count, delivered 28 songs. For the 500 or so folks in the building who decided to Take A Chance on this one-night stand, they certainly got their money's worth.
"You May be Right……I May be Crazy"
Piano Man Langevin kicked off the show in Billy Joel all black. Based on his versatility, I'd describe him as the Swiss Army Knife of three musical acts. In Act I, he sat center stage in his dark Ray Bans, pounding the keyboard and belting out classics such as It's Still Rock And Roll To Me, Just The Way You Are, Piano Man, and You Might Be Right. During the last song, he exited the stage for about five minutes as the band kept playing. We all kinda knew what was coming next.
In Act II, Langevin reappeared in all white from flamboyant straw hat to toe. Hello Elton John and venerable numbers such as Philadelphia Freedom, Your Song, Crocodile Rock, Tiny Dancer, Saturday Night, and Don't Let The Sun Go Down On Me. Mr. Versatile sang'em all, barely taking a sip of water between ditties. He earned his paycheck.
"See that Girl….Watch that Scene…..Digging the Dancing Queen"
After intermission, Act III was a whole different ballgame for Langevin. This time he was positioned stage left playing keyboard and providing back-up vocals for the glitzy ABBA throwback machine. Center stage was occupied by Jeanette and Marlie, the two female leads in their floor-hugging one-piece white jumpsuits with gold trim and wide bell bottoms.  Gimme Gimme Gimme – these lovely ladies were high-stepping and twirling and ABBA-lutely having a blast mashing through their 16-song set.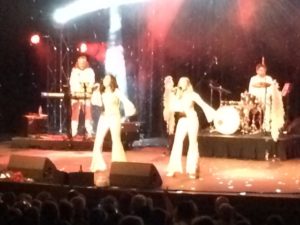 "Money Money Money…..Always Sunny…..In a Rich Man's World"
There was no Waterloo moment for these road warriors, everything was a triumph. Right out of the gate the tightly knit ensemble launched into spirited versions of Mamma Mia, Dancing Queen, SOS, Money Money Money (my personal fave), and Fernando. The room was energized. Clap-alongs and sing-alongs were encouraged. Couples and small pockets of attendees took to boogieing in the aisles. This nostalgic dance party was proceeding full speed ahead with a Super Trouper attitude of cutting loose after a long work week.
Big Finish – it was a Winner Takes It All kind of night. KCT has hosted different versions of ABRA Cadabra in year's past. It's the timeless songs and this lively stage performance that keeps patrons coming back. ABRA Cadabra will next be seen in Vancouver on September 25th opening for Boney M.