Latin Fiesta Friday with the Okanagan Symphony Orchestra (OSO) and Okanagan Symphony Youth Orchestra (OSYO)
Latin Fiesta Friday with the Okanagan Symphony Orchestra (OSO) and Okanagan Symphony Youth Orchestra (OSYO)
The third Friday of February at Kelowna Community Theatre was the whole enchilada as the Okanagan Symphony Orchestra (OSO) got spicy and performed Masterworks III – Latin Fiesta.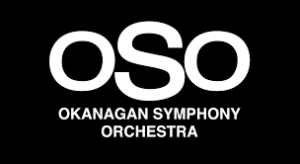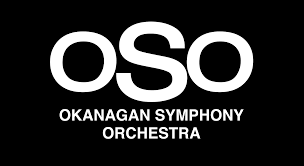 This night of colorful instrumentation and syncopated rhythms paid homage to Romance-speaking countries like Spain and regions such as Latin and South America. For a nearly packed house hungry for multi-cultural cuisine, there was a full menu on stage that featured three appetizing entrees: flutist (or flautist) Christie Reside on loan from the Vancouver Symphony Orchestra, two tango dancers from a Vernon dance troupe, and 80 members of the Okanagan Symphony Youth Orchestra (OSYO).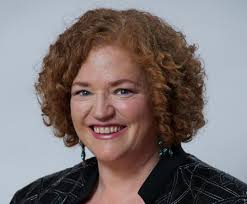 The evening got off to a spirited start when OSO Maestra Rosemary Thomson took the stage and asked the audience to stand for the Canadian National Anthem (in honor of 150th Birthday celebrations). These were the last non-Latin notes to be heard for the next 90 minutes.
First on the program was Three Latin-American Dances written by Gabriela Lena Frank. The music was slow, ominous, and not the fast-paced tempo I was expecting. I did like the distinct sounds of the bongos and trumpets, they brought some lively oomph into a low-volume storyline.
Things turned upbeat when Rodrigo's Concierto Pastorale was introduced as a movement featuring the flute, English horns, and oboe. That's when Reside came out to stage front with her shiny woodwind tool and proceeded to dazzle with her talents. She was magnificent, her solos were crisp and intoxicating. Bravo. How did she learn to breathe and toot at the same time? I appreciated how she rhythmically bobbed her head and shoulders while playing.
At intermission, wife Elaine and I met up with her friend Sarah. I asked Sarah, who played the flute, what she thought about Reside. Said Sarah: "She covered all three octaves in three notes. How did she get her fingers to move that fast? She made it look effortless."
Local talent dominated the evening's second half. During part of the Piazzolla movement, two dancers from City Dance in Vernon appeared. Dressed in red and black, they performed an Argentine tango in front of the orchestra. The visuals matched the sounds. A suggestion to the stage manager and production crew – maybe it would have been more romantic with a dark orchestra and spotlight on the tango-ers?
Before the big finale, Thomson had to stall for a few minutes as more stage chairs were added. On came the OSYO, some as young as nine years old and all dressed in white shirts, to sit next to their protégé/mentor playing the same instrument. Well executed, OSO. The 120-person orchestra played Danzόn No. 2 by Márquez. It was rousing and well-received. Olé and adios!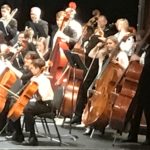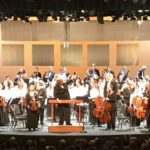 Kudos to OSO for putting in the time and effort to develop the next generation of fledgling instrumentalists. It must have been a thrilling stage experience for all the kids. Youth is being served one note at a time.