Kelowna Fan Xpo (KFX) is Nerd Nirvana for Cosplayers
Kelowna Fan Xpo (KFX) is Nerd Nirvana for Cosplayers
Nerd alert. Wife Elaine and I went to a geek festival and witnessed our first "Cosplay Contest."
I know what you're thinking. Why are geeks gathering in Kelowna and what the heck does the word cosplay mean? Allow me to enter the Stan Lee science fiction/fantasy world of artistic expression and spell out all the dorky details.
On Saturday, March 25th, Kelowna Community Theatre was one of the host sites for a "Comic-Con" style event called Kelowna Fan Xpo (KFX). Now in its fourth go-round, KFX transports participants into the fan-culture world of comics, manga/anime, Sci-Fi, fantasy, horror, toys, movies, and video games. The KCT stage featured celebrity improvisation, entertainment seminars, and costume parades. Out in the lobby were tables of exhibitors and merchandise.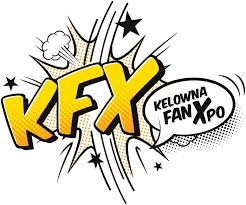 Under the guidance of Artistic Director Bonnie Gratz and Producer Joseph Otoo, KFX has grown significantly in attendees and vendor sponsors. Other venues utilized for booth space, gaming areas, and autograph signings were the Rotary Centre for the Arts, New Vintage Theatre, and Okanagan Regional Library – Main Branch.
From what we observed, KFX was designed as an all-ages earthly experience for adults, millennials, and youngsters who wanna dress up and morph into full-fledged fantasy mode.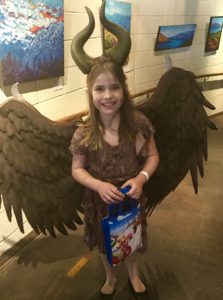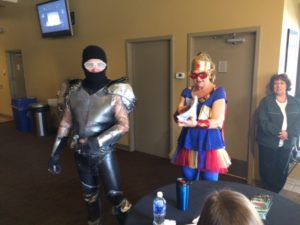 Speaking of fantasy, the word cosplay is a contraction of the words costumes and play. Cosplay has garnered worldwide attention as a performance art in which participants called cosplayers wear costumes and fashion accessories to represent a specific character. It's costumed role-playing. When in costume, many cosplayers seek to adopt the affectations, mannerisms, and body language of the characters they portray.
Walking between venues was a colorful cast of multi-genre characters. These folks take fantasyland seriously. We could identify Batman, Wonder Woman, and Harry Potter. The others, no clue. But according to script, we could have seen the likes of Harley Quinn, Vixen, Powergirl, Katana, Black Canary, Captain Marvel, Green Lantern, and Scarlet Witch.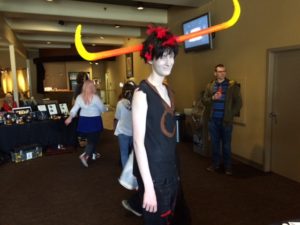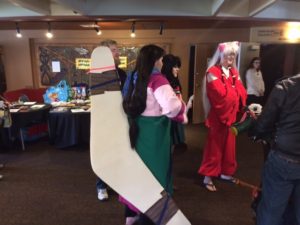 The Cosplay Contest we watched on the KCT stage was the kiddie parade. We're talking very young to barely teens. All the costumes had to be homemade. Creative stuff. Later in the evening was the Teen and Adult Cosplay Contest. Due to prior commitments, we missed this much-anticipated masquerade ball. Judging from what we saw strolling down Water Street, competition was Sasha Fierce to pick the best-of-the-best costumed crusader.
Big Finish – Kudos to KFX for making a significant effort to keep its show G-Rated and family-friendly. Having out-of-town cosplayers showing up is an encouraging economic indicator that geek weekend could get bigger and more Marvel-ous. KFX 2018 will take place on March 23 + 24.