I'm A Pool Attendant at the Westin Maui Resort & Spa
I'm A Pool Attendant at the Westin Maui Resort & Spa
Never ever ever in a bazillion years did I dream, especially at an age when I'm eligible to receive Social Security benefits, that I would become a Pool Attendant at a swank hotel in a paradise setting.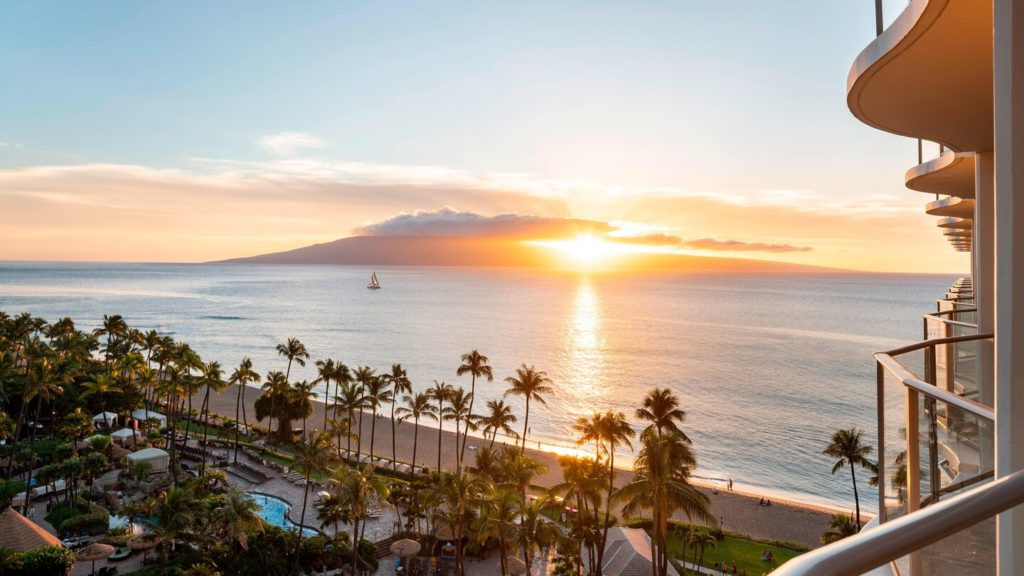 Never say never. Reality took a headfirst dive on October 4, 2019 when I was hired to work the gorgeous pool deck at the Westin Maui Resort & Spa in Kaanapali, Hawaii. Right on the beach. Right next to Whalers Village. Right where a gaggle of snorkeling, whale-watching, and parasailing excursions depart from daily. Every day I count my tropical blessings.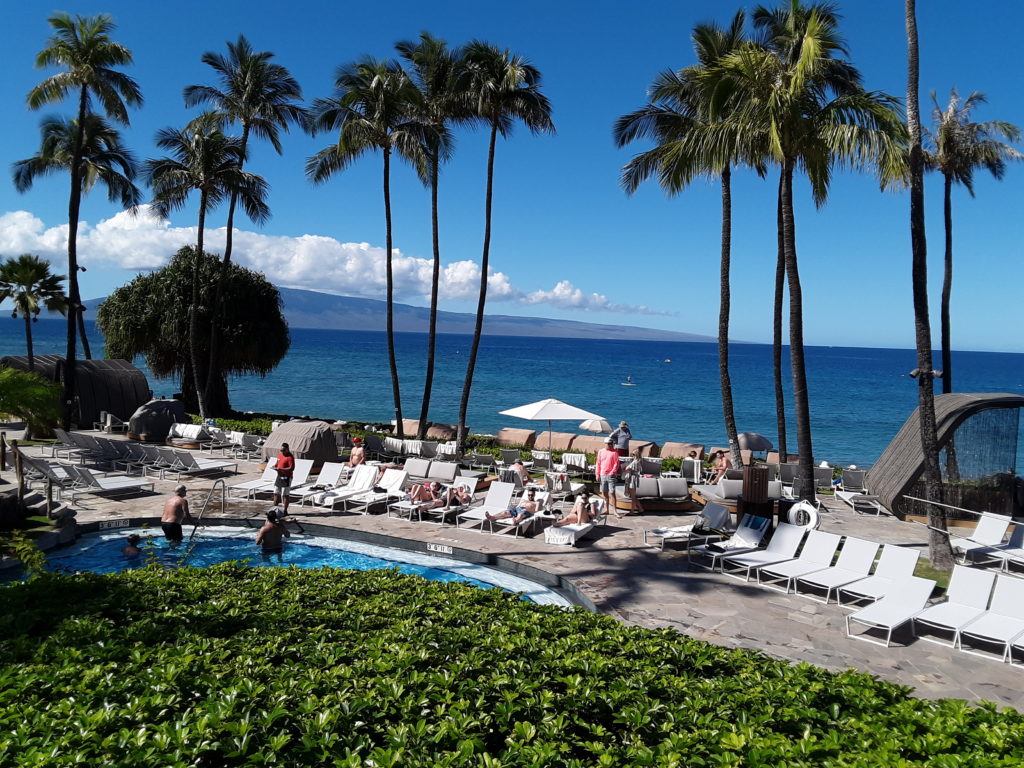 I'm working at the Westin but Aqualani is my employer. Aqualani is an industry leader in resort-beach and pool-recreation management on Maui and Oahu. What's not to like? The company offers a comprehensive medical-benefits package as well as attendance perks on high-demand Teralani tourist outings via catamarans and vessels the company owns.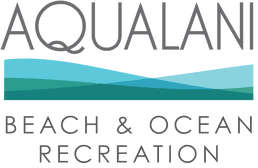 Pool Attendant Panorama
What sold me instantly was the exquisite pool deck. Multiple levels, multiple pools, multiple waterfalls, island greenery, two slides, two nearby islands (Lanai and Molokai), stunning ocean vistas, and a pool shack 50 feet from the surf. Sign me up. I wanted this gig as soon as Supervisor Brent provided a tour. Please hire me. He did. Mahalo.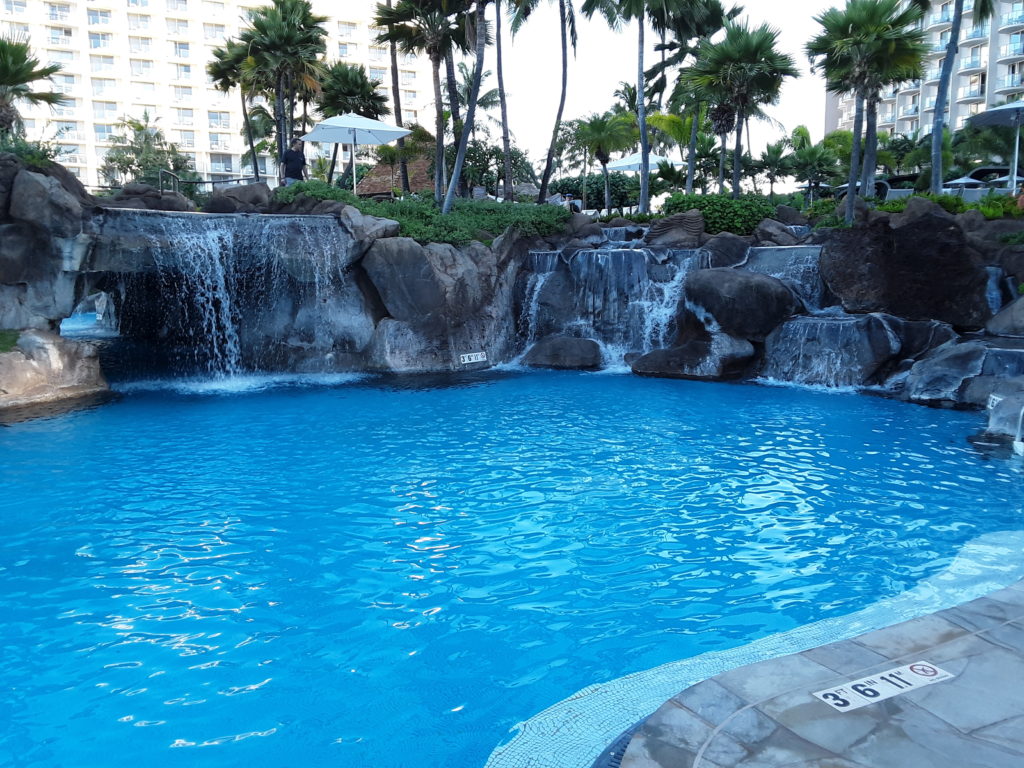 Pool Attendant Gear
Splashy bonus. Our everyday uni consists of an Aqualani polo shirt, lei, nametag, shorts (skorts for women) and white sneakers. All supplied. Really – I wear a lei to work every day! Many of us also choose to wear an Aqualani baseball cap for obvious protection. It's toasty out there and the sunshine rarely ceases. The sacrifices we make!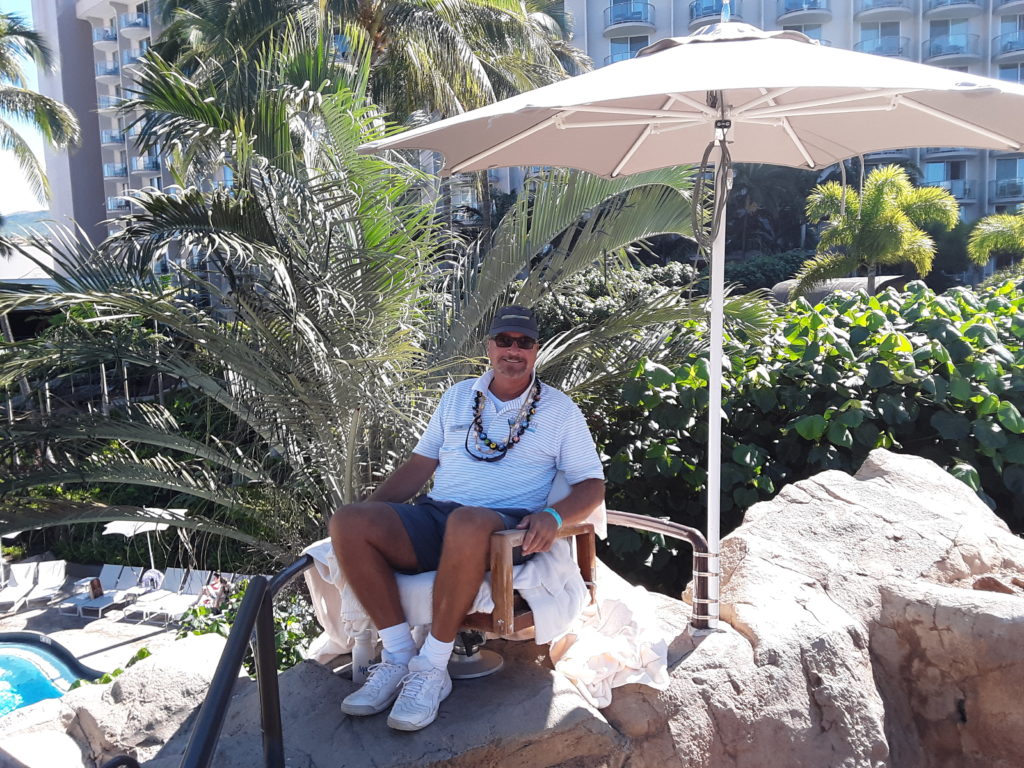 Pool Attendant Playground
No cubicles or artificial lighting. No conference rooms or whiteboards. Total outdoor blissfulness with cabanas and coconut trees. Clients have the option to luxuriate in a variety of poolside rental suites: pune'es (Hawaiian word for daybed), Hale Ali'is (home for royalty), Hale Ho'omalus (home with lounging beds), and poolside/oceanside casabellas (two-person loungers with retractable hoods). It's all first come, first served for these units that are steps away from water and hours away from the mainland.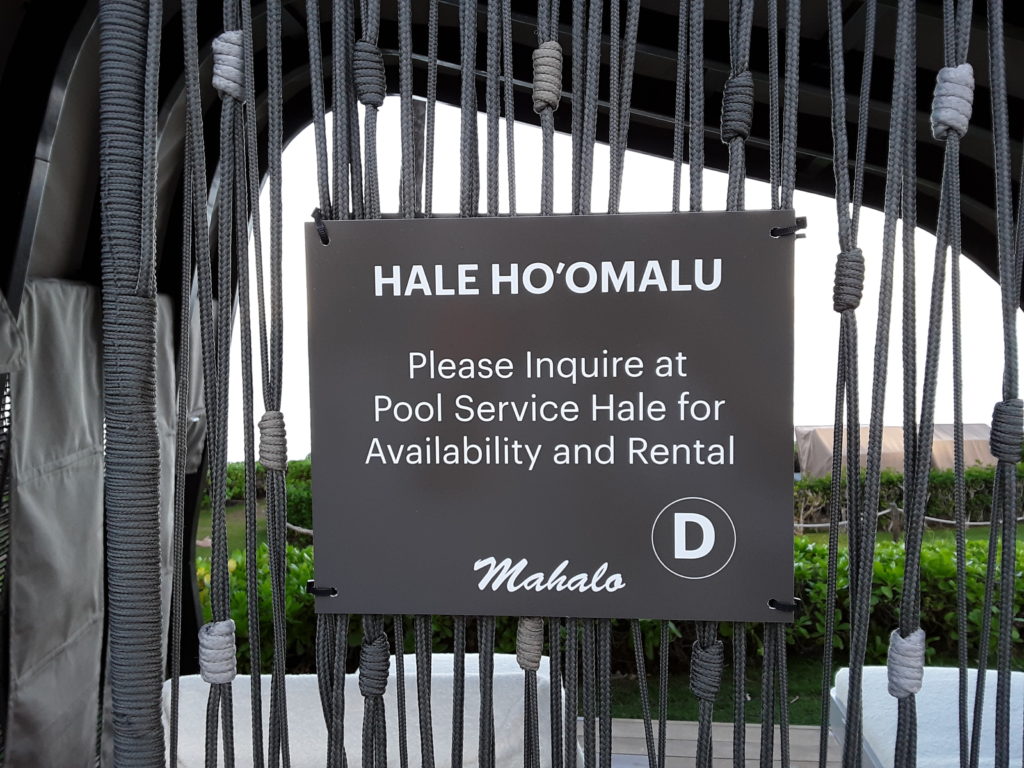 Aqualani employs three categories – Serving Hosts, Recreation, and Sales. Our dedicated group of servers provide daylong services (towels, water, pineapple chunks, schmoozing) to the fancy digs. Not an easy job. I'm in Recreation. Our crew patrols the pool deck and all its well-oiled activities. Guests come to the pool shack donning colorful swim wear and perpetual smiles. Maui seems to have that affect on just about everyone.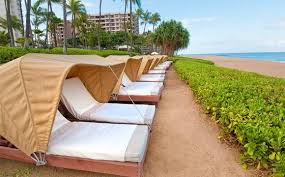 About three weeks into my tenure Brent named me Slide Master on the baddest water slide in all of Maui. This elevated 150-foot curly-Q torpedo-launcher is the star attraction for thrill seekers of all ages. We monitor rider activity for safety and collision-prevention. One little squirt told me over Christmas week that he had ridden the slide 114 times in three days. Not sure he could count that high but I backed his story. A few days later an 82-year-old great-grandma took the plunge at the behest of her family. She didn't return for a second helping.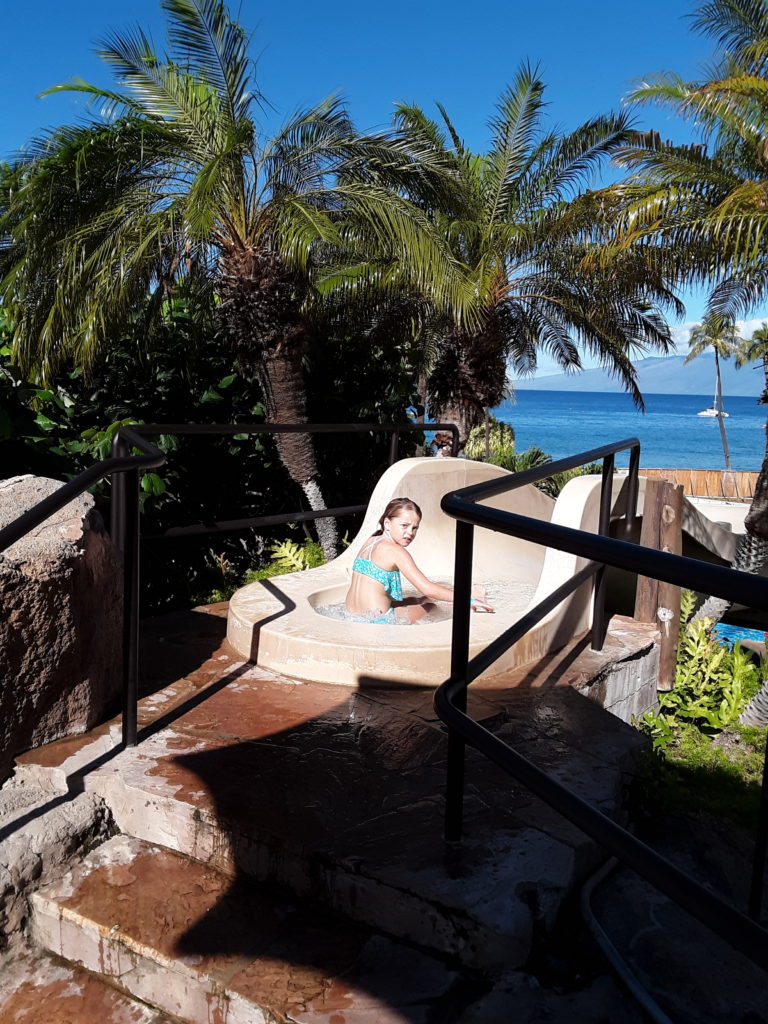 Pool Attendant Playbook
Cabana Boy – what do you do all day? Our Recreation team is the Jack-and-Jackies of all trades. We open and close the pool shack; transport heavy bins of fresh towels and wet towels to the hotel laundry throughout the day; hand out towels, towel cards and wristbands to guests; rent out and/or sell snorkel equipment, boogie boards, and floatie toys; monitor the big slide from 9-5; fill and refill water-station coolers; open, close, and move poolside umbrellas; put up beach umbrellas; move chaise lounges when necessary; and rid the pool deck of unaccompanied wet towels and light trash.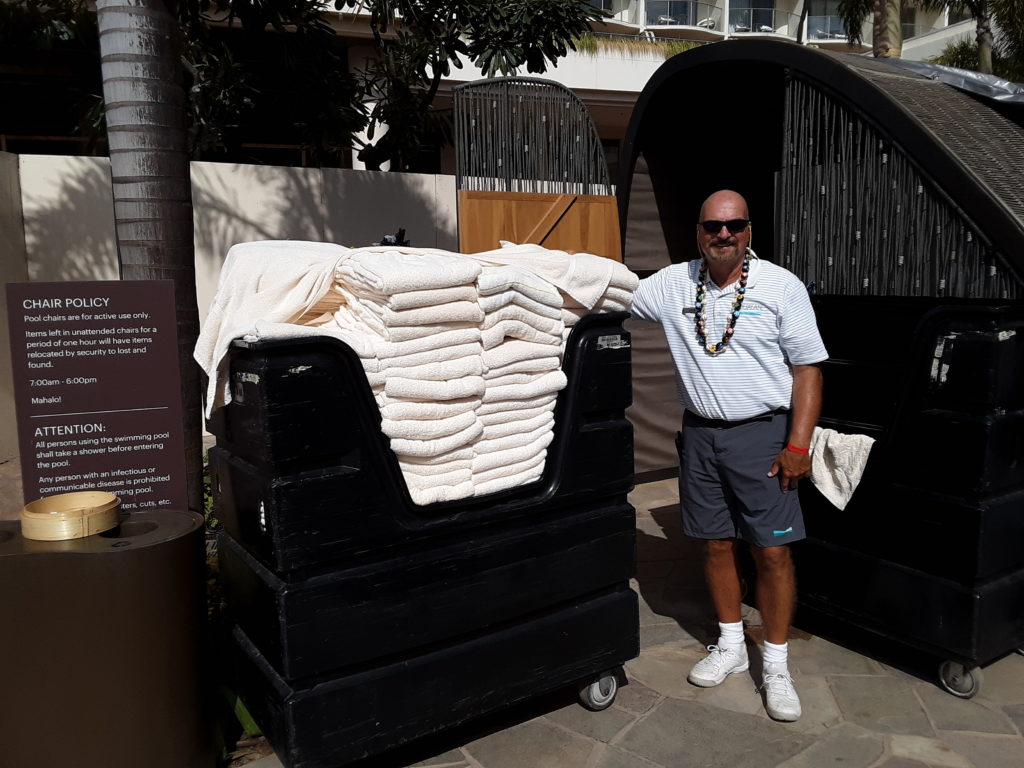 Everyone pitches in. Teamwork and sweat equity. By design our pool shack does not have seating. No sitting down. Stay upright and active. Makes for a looooong day and barking puppies!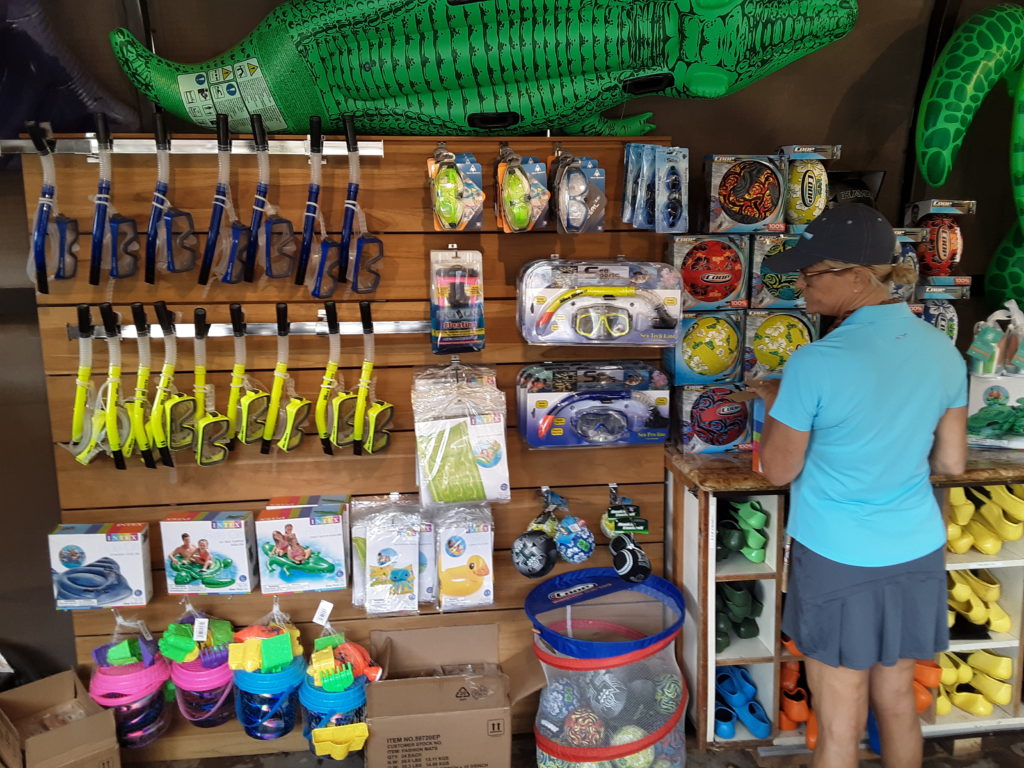 Pool Attendant Time Clock
Endurance, y'all. We're assigned four 10-hour days per week, not including one hour for lunch. At the end of each shift I'm whipped. It's grueling. Have I lost weight – yes. My current hours are 7:30 AM to 6:30 PM starting on Friday. Having three days off midweek might sound glorious. It ain't. Over those 72 hours my energy-level varies when running errands and seeking normality.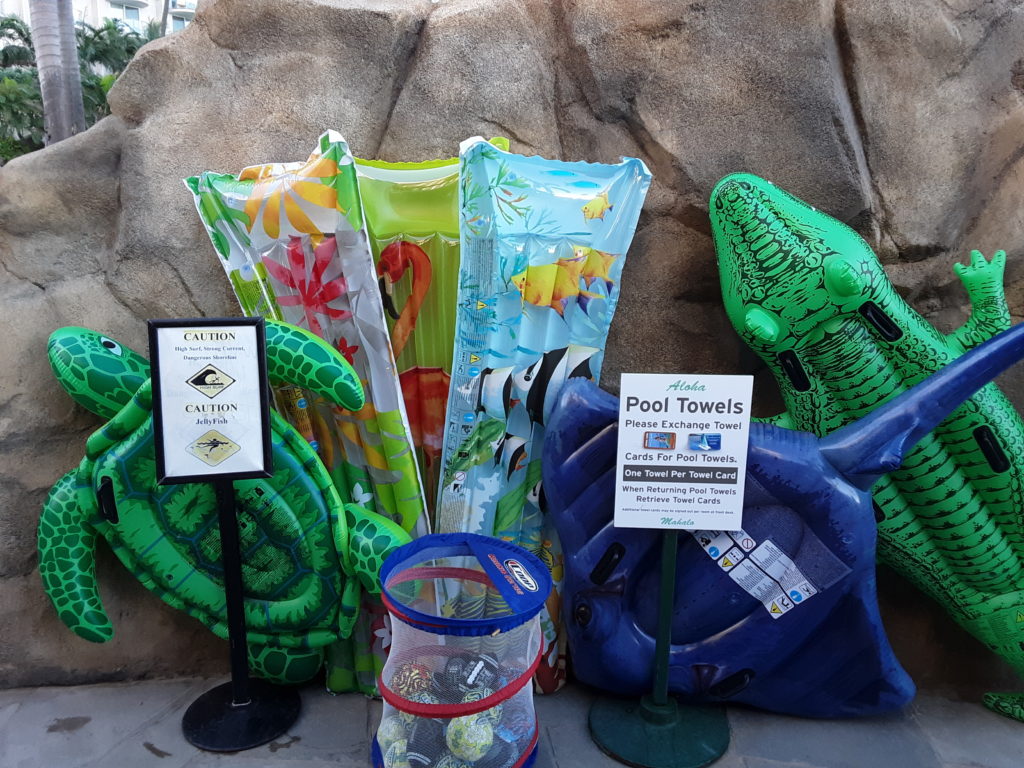 Pool Attendant Potpourri
"Just OK is not OK" for the Westin Maui Resort & Spa pool package. It raises the bar in aquatic family recreation and relaxation across the island chain. Add in sun-drenched skies and rideable ocean waves and it's no wonder the hotel does bonkers business with families, tourism groups, and honeymooners.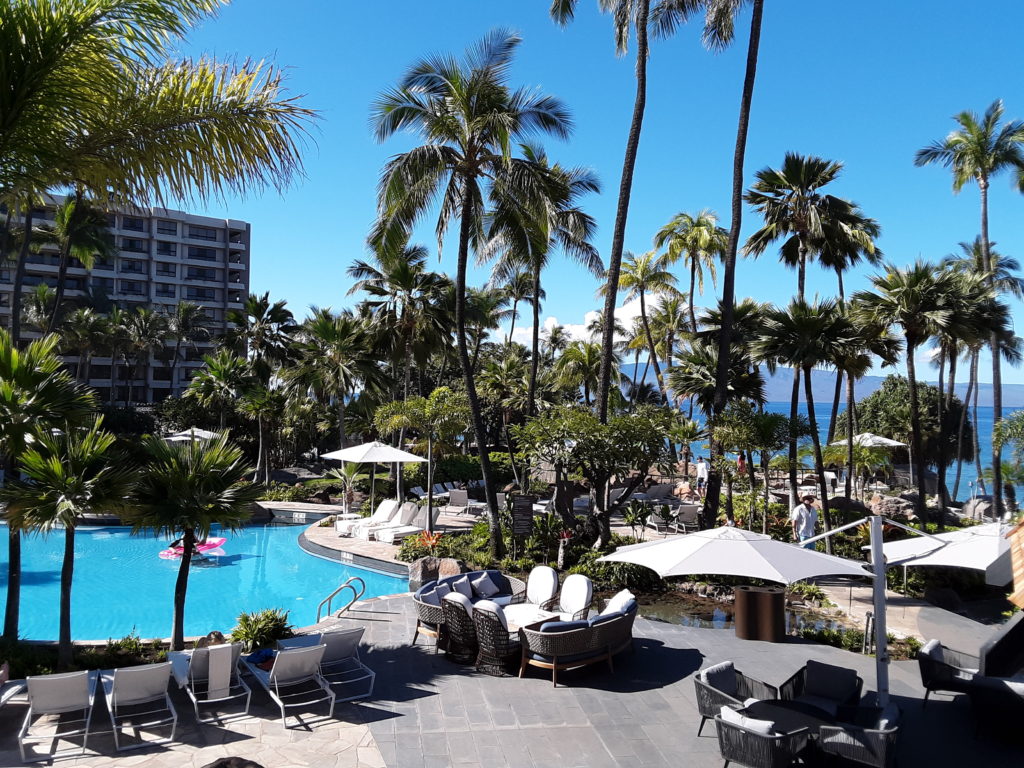 Maui the melting pot. One November afternoon at the pool shack I encountered young women from Switzerland, Peru, and Israel.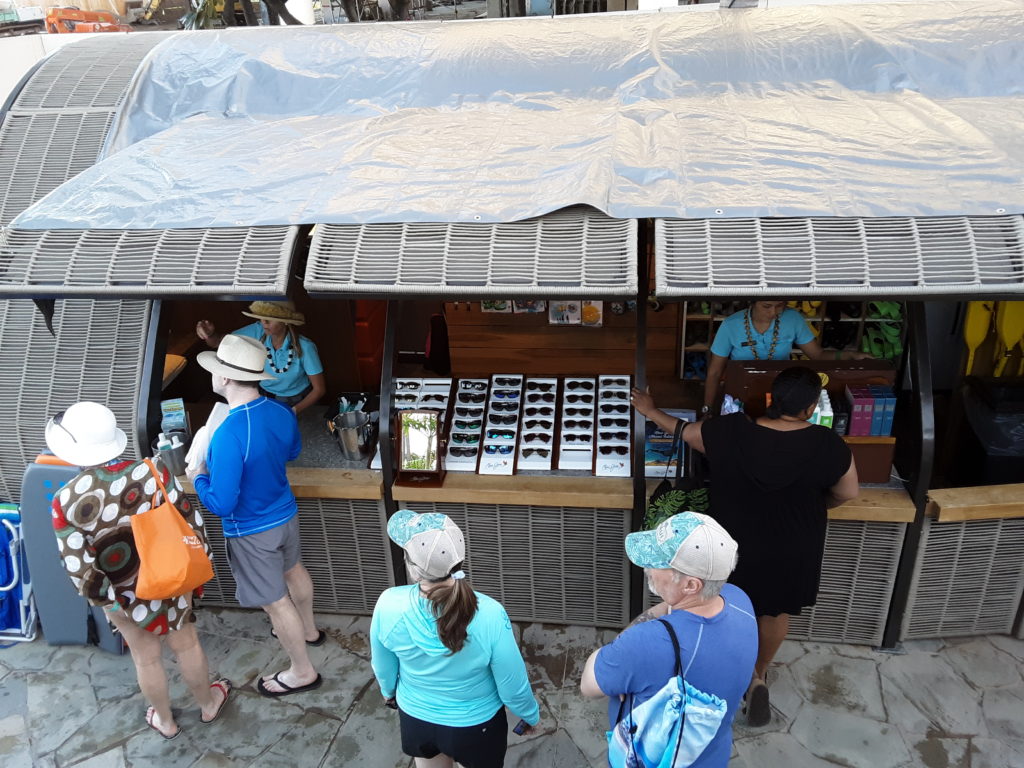 My guess is that if I'm not the "most senior" Pool Attendant on Maui I'm certainly in the top three?! Couldn't be prouder. Aqualani's last three hires for our Westin team were 18, 19, and 20. Add up the digits of these social-media monitors and my AARP number trumps them. Norman Vincent Peale opined "live your life and forget your age." Amen.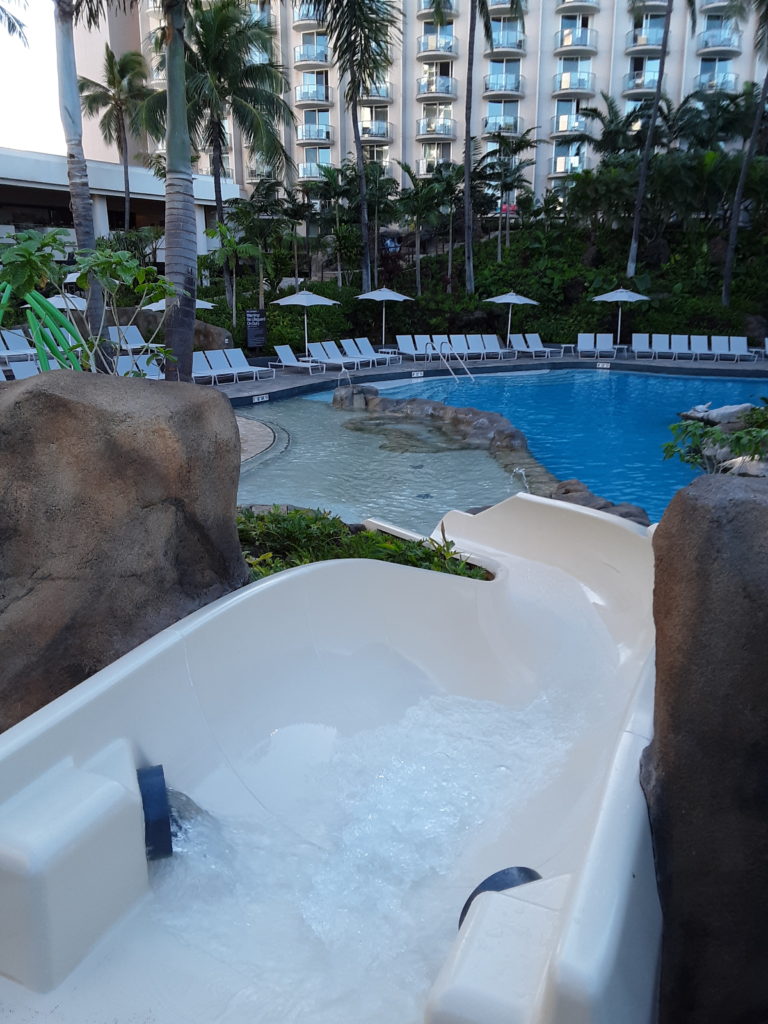 On a January Saturday evening while doing rounds a forlorn female guest came up and informed me that she had "just lost her wedding ring in the ocean." A $20K dazzler snatched by the Pacific. Gone, girl. She had insurance.