Handbells Highlight The Okanagan Symphony Orchestra's Ringing In of the Holiday Season
Handbells Highlight The Okanagan Symphony Orchestra's Ringing In of the Holiday Season
Question:  What do you get when you cross OSO with OHC on a FRI night at KCT three days before XMAS?
Answer:  One joyous Christmas symphony and handbell chorus hallelujah expertly boxed, wrapped, and clanged before a packed house.
Translation – the Okanagan Symphony Orchestra (OSO) and Okanagan Handbell Chorus (OKC) teamed up on the Friday before Christmas at Kelowna Community Theatre for a two-hour holiday mash up that was a newborn-king-inspired joy to the world. O Holy Night, the show was entitled OSO: Ringing in the Season and featured harmonica and oboe solos, 13 handbell ringers, and four vibrant audience sing-alongs.
"This program featured traditional carols played in non-traditional ways" said OSO Music Director Rosemary Thomson after the show. "There were a lot of short pieces and I believe these arrangements created a festive and joyful atmosphere. Having this many handbells covering five octaves on one stage with our amazing orchestra was quite heavenly and pleasing."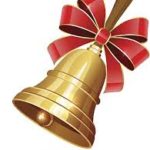 Making my own list and checking it twice, there were three things in this yuletide performance that I had never experienced before. The first was the elite handbell ringers, made up of 12 women and one gentleman. They were all very demonstrative in the bell-ringing motions and wore black leather gloves. Why the gloves? Most handbells are made of bronze and not wearing gloves would mean that oil and sweat on the ringers' bare hands might tarnish the bell's exterior.
Sticking with the handbell theme, the performance also featured the appearance of 13 custom-crafted bells by the Okanagan's own Lynden Beesley. She created each bell to represent one of Canada's provinces or territories in honor of Canada's Sesquicentennial. The handle of each bell was made in the shape and color of the native flower of each province or territory. What an interesting hobby.
The other two revelations were harmonica solos and a marimba. The harmonica solos were performed by local guest artist Anthony Lau, known as Mr. Harmonica in Asia. Because of his invention of the distinct vibrato and mellow tone to the harmonica, the "Anthony Lau Tone" is renowned in the harmonica world. On this night, he dazzled during four numbers that included O Holy Night and Panis Angelicus.
Before intermission, out to the stage came a marimba. If they had put this instrument out in the lobby before the show, I would have no idea was it was?! It looked like a larger version of a xylophone. Playing it on stage with total panache was Lower Mainland composer Bruce Henczel and his world premiere of For Unto Us. I noted he played with two mallets in each hand and made banging the keys look easy.
Big Finish – The Bells of Christmas performed by the OSO started off the evening and included favorites Silver Bells and Jingle Bells. The four audience sing-alongs were: The First Noël, Silent Night, Good King Wenceslas, and Joy to The World. Next up for the OSO will be its Masterworks III Viennese Delights performance on Friday, January 19, 2018 in Kelowna, Saturday, January 20 in Penticton, and Sunday, January 21 in Vernon.