Glenn Miller Orchestra Puts Kelowna in the Mood
Glenn Miller Orchestra Puts Kelowna in the Mood
Pardon me boy – am I turning into my parents?!
On a toasty June Tuesday night a few ticks shy of Canada's 150th Birthday, wife Elaine and I strolled into Kelowna Community Theatre officially for the first time this summer. Coming off a three-week vacation in the hot-and-humid USA, we were in the mood for some serenading sounds to shake off a snoozy case of jet lag.
All aboard the Chattanooga Choo Choo. We got exactly what we expected, and what our parents would have totally appreciated, a night of big-band melodies and arrangements courtesy of The World Famous Glenn Miller Orchestra (GMO). Making its first-ever visit to Kelowna, GMO played for one hour and 40 minutes in front of a packed house of grey hairs and great grandparents that arrived early and stayed until the final fox trot.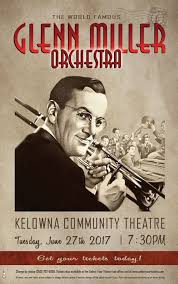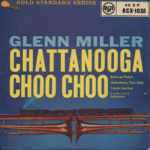 As a kid, I remember my parents getting all dolled up on a Saturday night to head out to their cotillion ball. They danced the night away, with drinks and dresses flowing, as a live band played all the swing-time favorites. Now I'm listening (but not dancing) to those same numbers by a legendary orchestra and thoroughly enjoying the toe-tapping experience. What in the name of Alice Cooper happened?!
GMO showed up ready to boogie. The 16-piece ensemble was decked out in bright red blazers, black slacks, and black ties. They wielded their instruments with total confidence and finesse – their smooth sounds coming from a mix of saxophones, trombones, trumpets, clarinets, bass, drums, and piano. A few of the members were also versatile enough to put down their instruments and take center stage to sing vocals in a foursome known as the Moonlight Serenaders.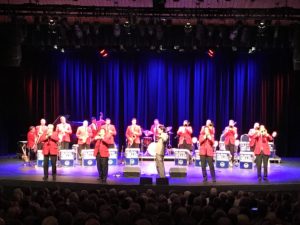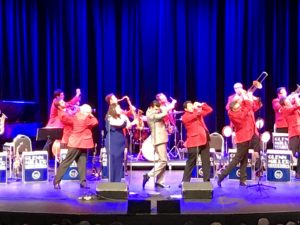 Leading the G-Rated musical masterpiece was bandleader Nick Hilscher from Atlanta, GA. This guy was right out of big-band central casting – tall, handsome, decked out in a tailored suit, and jet-black hair slicked back like a rat-pack socialite. His voice was like "buttah", and he often shared the stage with equally talented singer Maria Schafer out of Long Beach, CA.
GMO got the crowd in a memory-lane mood by leading off with Moonlight Serenade as its first song. That was soon followed by Chattanooga Choo Choo, In the Mood, A String of Pearls, and Tuxedo Junction. When all these melodies were played, the crowd would let out a joyful "aaaaah" in unison as soon as the first few familiar chords were recognized.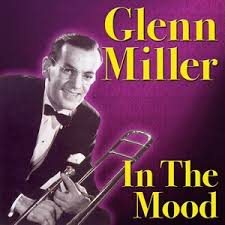 By my unofficial count, the band played 23 songs almost before the sun set across Okanagan Lake. Some of the favorites after intermission were Little Brown Jug, It Happened in Sun Valley, Body and Soul, and Pennsylvania 6-5000.
Big Finish – the Glenn Miller Orchestra claims it has been playing non-stop (48 weeks per year) since the group was re-formed in 1956. In a historical note, Glenn Miller (at age 40) was traveling to entertain U.S. troops in France during World War II when his aircraft disappeared in bad weather over the English Channel. Despite these unfortunate circumstances, his legacy lives on.