Colin James Commands the Stage Like a Hall-of-Famer
Colin James Commands the Stage Like a Hall-of-Famer
Nothing better than being treated to an electrifying performance by a Hall of Fame performer on a rainy Wednesday night.
That absolutely, positively describes the privilege wife Elaine and I had sitting center stage at Kelowna Community Theatre for Colin James and his Blue Highways tour stop. The Regina native, along with his smooth-as-silk six-piece Little Big Band, knocked it out of the park with a bluesy jazzy musical catalogue that left many in the sold-out crowd clamoring for more of that Voodoo Thing.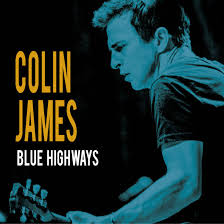 Let's be honest, James and his posse could have easily skipped this Kelowna gig. They were scheduled to play earlier this month on March 4th, but the set was cancelled when James was silenced with laryngitis. Their Blue Highways tour ended weeks ago, but they were generous enough to reschedule and bring a boatload of fresh energy to the Okanagan. "It's good to be back," offered James.
After more than a quarter century in the music silo, James found himself inducted into the Canadian Music Hall of Fame in 2013. Three years later, he accepted the same honor from the Western Canadian Music Hall of Fame. Those accolades speak directly to him being a consummate professional, superb guitarist, and having a maturity in his voice derived from age and experience.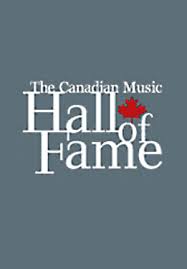 His chops have been honed and should be cloned. Right off the bat, the James gang came out swinging their bluesy, jazzy, and dixieland best with Forty Four and Boogie Funk. Two songs later was Bad Bad Whiskey…..and the accompanying chorus "makes me lose my happy home." That gem resonated with me for unknown reasons. I haven't tasted whiskey in decades. Maybe because it (and a few other songs) had a ZZ Top groove. Those bearded balladeers are one of my favorite bands of all time.
Another fave was Why'd You Lie because the beat was lively and the sax solo superb. It led straight into Freedom/See It Through and the classic chorus "nothing is better than freedom." At James' behest, the audience serenaded that line many times and you could feel the passion of the words.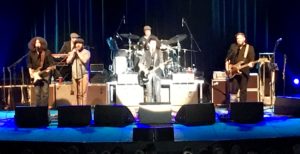 Final charmer – "When You Got a Heartache, There Ain't Nothing You Can Do." During this crowd-pleaser and Just Came Back (To Say Goodbye), several women and a few dudes crept up to the stage and were dancing up a storm. Blame it on the Blue Highways boys. They rocked for almost two hours and had the entire crowd on its feet before the grand finale and Five Long Years.
Big Finish – anytime you employ a harmonica player and saxophonist in your band, those distinct sounds are a welcomed change-of-pace.  It's easy to understand how singer-songwriter Colin James has achieved Hall of Fame status. He showcased an authenticity and deep reverence for his musical lineage that continues to spark his impressively long career.