Carmen Captivates at Kelowna Community Theatre
Carmen Captivates at Kelowna Community Theatre
Carmen – nice to finally meet ya. Sorry about what happened in Act IV.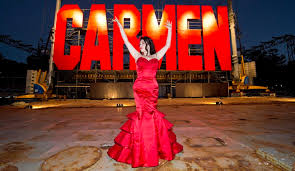 En garde, toréador. That was some spectacular opening-night performance by Opera Kelowna and its midsummer production of Carmen Thursday evening at Kelowna Community Theatre. This three-hour, full-throttle opera was a four-act masterpiece that totally deserved the full-fledged standing ovation it received during final curtain call.
Here's some advice for Okanagan residents without major plans for this coming weekend. Turn off Netflix on Friday or Saturday night and head over to KCT to experience the kind of professional live entertainment that doesn't always make it to Water Street. You don't have to be an opera groupie, the character voices are ridiculously mesmerizing and there are English subtitles on two video screens to help follow along as the plot romantically thickens.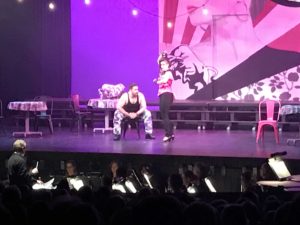 For novice attendees, Carmen is the best-known example of opéra-comique, a genre of French opera not necessarily comic but featuring both spoken dialogue and sung portions. What added freshness and flavor during this arrangement was the use of a live orchestra that sat at crowd level in front of the stage. The conductor was Bernard McDonald, his troops were spot on in adding passion and fury to the desperation depicted on stage.
When Carmen was first performed in Paris in 1875, it was considered ground-breaking in its realism. Early on it was condemned by critics who must have thought French composer Georges Bizet was sitting on his bidet when he wrote it because opera snobs were unaccustomed to seeing the lives of common folk such as gypsies, smugglers, factory workers, and other lowlifes given center stage. Imagine that characterization in today's PC, all-inclusive world?!
Opera Kelowna's production of Carmen rode the wave of global headlines and focused on nomadic residents and urbanization. Let's just say the sets and costumes looked nothing like Seville, Spain in 1820. This modernized take featured sets with inner-city street art, punk-inspired apparel featuring neon designer corsets, leggings, and body tattooing, and leading-lady hair styles straight out of Rodeo Drive salons.
Carmen's storyline is hot-blooded girl-meets-boy, girl-meets-another-boy titillation. I won't bore you with the details, other than to say that Carmen is both seductress and femme fatale. The two main men in bohemian life, Don José and Escamillo, are vastly different and each head-over-heels in love with her. She toys with their heartstrings until Don José blows a testosterone gasket in the final 30 seconds. He "put a ring on it" and she rejected him. That's no bull.
Carmen was beautifully voiced by curvy mezzo soprano Suzanne Lommler. She was brassy and brilliant. Equally stellar was tenor Ernesto Ramirez as Don José. I heard someone say at intermission that "Don José was knocking it out of the park." Escamillo the toréador was voiced by baritone Geoffrey Sirett. His outfits and boots were space-age cool. Sweet angelic Micaëla was played by a very blonde and soprano-strong Lara Ciekiewicz. All the professional leads have a great deal of experience performing in the operatic world.
My two favorite songs came before intermission – Habanera and the Toréador Song. As soon as each one was belted out, their intense melodies were recognizable. Did I know them from cartoons, movies, or radio soundbites? Not sure. You'll know what I mean when you hear them. Credit to Bizet for being such a creative force whose work has stood the test of time.