Blackie and the Rodeo Kings CARE About More Love and Eliminating Hate
Blackie and the Rodeo Kings CARE About More Love and Eliminating Hate
Okay, help me out here. Which one was Blackie and which ones were the Rodeo Kings?
I'm still not sure of the answer, even though wife Elaine and I saw Blackie and the Rodeo Kings (B&RK) perform live on stage at Kelowna Community Theatre. The three front men – Colin Linden, Stephen Fearing, and Tom Wilson – were guitar-playing wizards who took turns singing lead vocals. Behind them were bass player Johnny Dymond and drummer Gary Craig.
Blackie – will you please step forward and identify yourself to us commoners? Maybe I'm being a little too anal about this unsolved mystery?!
Moving on, the seasoned quintet brought a little bit of everything to the Okanagan. That included nepotism, a deep-rooted social message, and a playlist of folk, alternative country, and country rock music. You guessed it, I couldn't accurately define which songs were from which category?! Didn't matter. B&RK entertained for two hours straight and defied their long-in-the-tooth status.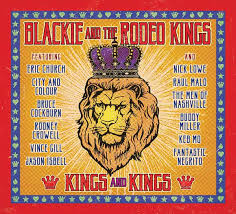 If you think you had a grueling work week, check out B&RK's road schedule from Saturday to Saturday – Winnipeg, Swift Current, Saskatoon, Calgary, Regina, Edmonton, Vancouver, and Kelowna. Eight consecutive nights on a snazzy tour bus out promoting their new Kings and Kings album. Wilson described the bus as a giant purse containing a lot of personal items that were hard to find.
The opening act was a handsome young fella named Thompson Wilson. He sang five songs with just his guitar and soulful voice. Turns out he was Tom Wilson's son, a roadie, and tour bus driver. The audience ate up a couple of his "I'm short on cash" sentimental solos and wanted more.
Blackie and the Rodeo Kings are true believers in affecting social change. The band has been working with CARE Canada to defend dignity and fight poverty, especially among young girls and women. Same goes for bullying and hate. The group cares so much about making a difference that on stage behind the drummer was a large banner that shouted: THIS BAND KILLS HATE.
This band also sings for a living and belted out 15 homespun songs sandwiched around sassy storytelling. Fan favorites: Water or Gasoline, Stoned, Shelter Me Lord, Acadian Driftwood, Gotta Stay Young, Remedy, and White Line.
Before the evening's final number, papa Wilson reiterated the band's unifying message. "People can do anything," he opined. "Let's talk about love. Let's live in a world where there's patience, grace, tolerance, honesty, and love. Everyone has to do their part." Amen, brother.
Big Finish – B&RK may be getting older (Tom Wilson admitted it), but I could see them sharing a triple-bill with Lynyrd Skynyrd and ZZ Top. On their Kings and Kings album, featured singers included Eric Church, Rodney Crowell, Keb′ Mo′, Raul Malo, Vince Gill, and the "Men of Nashville" from the Nashville television show.