Billy Elliot is a Musical Must-See
Billy Elliot is a Musical Must-See
Billy Billy Billy – fantastic job, you little bugger!
On one of the hottest nights so far of the Okanagan summer, it was truly a pleasure and privilege to sit inside Kelowna Community Theatre on the last Thursday of July. Not because the air-conditioning was in good working order, but rather because there was a cool-as-an-English-morning performance of Billy Elliot the Musical taking place in the friendly barn. The show runs through August 5th.
It was opening night for Billy and his brilliant cast of bubbly ballerinas and brawny coal miners. From our seats in Row K, wife Elaine and I didn't detect any big-crowd jitters or flubbed lines. Maybe because Artistic Managing Director Randy Leslie, Musical Director Roslyn Frantz, and Choreographer Jennifer Davies had their thespians primed and performing at peak levels? Or maybe, as in my case, I missed a few things because the thick northern England accents made it hard to catch every word and line?
Nonetheless, the 2.5-hour theatrical production was a refreshing splash in the face. Most of the actors were from the Okanagan Valley and the majority had been funneled through Kelowna Actors Studio. Elton John wrote the songs for this musical version after having seen the original Billy Elliot film in 2000. The sound (most microphones ever used [30] on the KCT stage) and lighting was crisp and timely.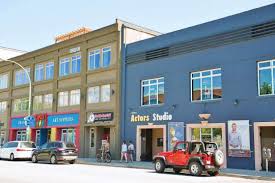 Even for novices, the plot line was easy to follow. Billy Elliot was the 11-year-old son of a coal-miner dad. The miners were on strike and angry. Dad demanded Billy take boxing lessons. Billy somehow landed in a ballet class with eight girls and liked it. Turns out he had dancing talent that didn't go over well with dad and his ill-tempered brother. Billy finally won them over with his "chance to be a star" and was headed to Royal Ballet School in London for a nerve-wracking audition.
Like the end of a hockey game – here are my three acting stars of the night:
Billy Elliot – played by Jonathan Fraser-Monroe. He's a grade seven student from Vernon. The kid was spot on and believable in the versatility and showmanship required for the title role. He can tell his junior-high friends he spent his summer at singing-and-dancing camp.
Mrs. Wilkinson – played by Karlisa Hiebert. She really tarted-up her role as the acerbic ballet teacher who molded Billy and went toe-to-toe with dad about the kid's future. She lit up the stage every time she appeared with her shaggy blonde wig and animal-print tights.
Michael Caffrey – played by Caden Hergott. He was Billy's sexually ambiguous friend with the squeaky voice who liked to dress up in women's clothing. The scene with Billy and Michael wearing dresses and heels and dancing in unison with tap-dancing dresses (you have to see it to believe it!) was the most-entertaining sequence of the show.
The Big Finish – honorable-mentions for excellent acting goes to Desmond Parenteau as Billy's dad and Susan Skinner as grandma. Bravo to both. As a cautious reminder – there is coarse language throughout. Even the kids let a few bombs fly. On many occasions, the timing and delivery of the bad words brought roaring laughter from the almost-packed house.