Ballet Kelowna Makes Streetcar a Desirable Ride
Ballet Kelowna Makes Streetcar a Desirable Ride
No streetcar, lots of desire.
That was my gritty takeaway on the first day of May at Kelowna Community Theatre as Ballet Kelowna wrapped up its landmark 15th anniversary season with the power and passion of the full-length ballet, A Streetcar Named Desire. American playwright Tennessee Williams' Pulitzer Prize winning classic tells the story of two southern belle sisters – one clinging to a bygone era, the other embracing the reality of post-World War II life in America.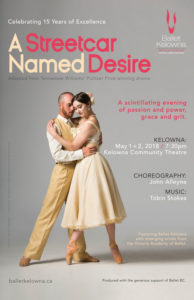 Digging deeper into the storyline, the dreamlike transitions danced between present and past, between real-time New Orleans and old-world Mississippi. Many observers have noted that A Streetcar Named Desire explores poignant themes that echo modern headlines about shifting social mores, dominance and bullying, gender stereotyping, and working-class diversity. So how does one create theatrical ballet, a wordless medium, out of this hard-edged scenario?
That was Canadian choreographer John Alleyne's job. He delivered a bang-up presentation by having his dancers communicating with the audience in a specialized and provocative way. He received measurable assistance from John Murrell, story adaption, Tobin Stokes, composer, Kim Nielsen, original set and costume design, and Gerald King, lighting design. Simone Orlando, Ballet Kelowna's Artistic Director and CEO, also played a major role in fine-turning the production.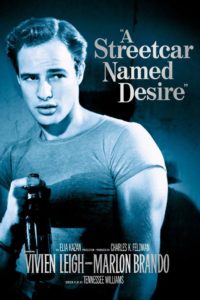 Ballet Kelowna dancers equally shared in the kudos and deserved the curtain-call standing ovation. The four leading roles were masterfully performed by Valentin Chou as Stanley Kowalski, Charlotte Reid as Stella Kowalski, Desiree Bortolussi as Blanche DuBois, and Kurt Werner as Harold "Mitch" Mitchell. Adding to the overall grace and beauty were post-secondary students from the Victoria Academy of Ballet.
What I understand about ballet is that it's an interactive pursuit which makes extensive use of music, scenery, and costumes to narrate a story. Duly noted on this evening where boy-meets-girl wanton desire was delivered like a right cross to the jaw.
The music was intoxicating and told as much of the Bourbon Street story as the synchronized body movements. With every new scene there were passionate beats, many times heavy with tension-building piano, trumpet, saxophone, bass, and drums. The scenery was dark, minimal, and dominated by a giant bed (Stanley and Stella's) and a steamer trunk (containing all of Blanche's dresses and frilly things).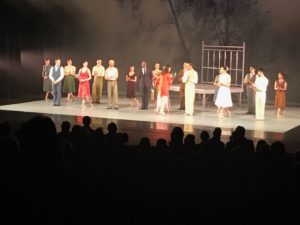 The costumes perfectly fit the timeline narrative. It was hard for me to tell the ladies apart because they all were tall and wiry and wore flowing frocks in bright colors. It was also impressive watching their precise movements and how often they spent twirling on the tippy toes. That can't be easy, even with practice and specialized pointe shoes.
Big Finish – on August 23, 2018, Ballet Kelowna will host a fundraiser and silent auction. During the evening there will be a screening of the documentary "Broken" –  the Simone Orlando story.