Ballet Kelowna Makes MAMBO Memorable in Autumn
Ballet Kelowna Makes MAMBO Memorable in Autumn
Whatever Lola Wants, Lola Gets.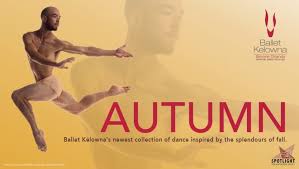 That sultry line from a 1956 Sarah Vaughan hit was hard to forget as wife Elaine and I left Kelowna Community Theatre on a mid-November Friday night after Ballet Kelowna launched its 16th season with a performance aptly entitled Autumn. Promoted as a multi-faceted celebration of the splendor of the fall season, Autumn featured two premieres from lauded Canadian choreographers John Alleyne (Schubert) from 2000 and Alysa Pires (In Between) in 2018.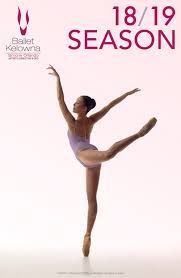 The pièce de résistance of this performance-de-pirouette was a quirky crowd-pleaser simply known as MAMBO (2018). Also choreographed by Pires, MAMBO was da bomb and a slightly kitschy gift that kept on giving to an audience that was eating it up. It featured a soundtrack of latin, jazz, and swing standards that busted the door wide open on what social-media-era ballet looks like or can look like. More on this showstopper, a boffo smash earlier this year in Beijing and Toronto, in a few paragraphs.
Simone Orlando, Ballet Kelowna's Artistic Director and CEO, was recently quoted about the brashness and versatility of contemporary ballet. "There is great use of the spine in contemporary and the partnering is very unconventional and exciting," she said. "The men have to really work to put the women in off-balance positions. This performance is not upright, classical, Nutcracker-style dancers in tutus. There is physicality in this work that audiences find fascinating."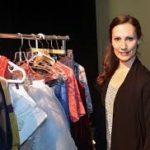 Whatever the boss wants, the boss gets.
Alleyne's Schubert was first mounted by Ballet BC in 2000 as a tribute to Canadian ballerina Jean Orr. It displayed the ethereal transience of the autumnal season and reflecting the cycle of life of a dancer in three scenes – youth, beauty and wisdom. The music was Franz Schubert's Trio in E Flat Major, Opus 100. Said Elaine: "it was beautifully choreographed and pretty to watch."
Pires' In Between was developed through The National Ballet of Canada's Choreographic Workshop and premiered in January. It was inspired by her childhood on Vancouver Island and the constant churning of the weather linked to body and soul and moving forward. The soundtrack was composed by her husband, Adam Sakiyama, and featured the ebb and flow of the ocean and temperate coastal climate. The movements were very physical and demanding of the dancers.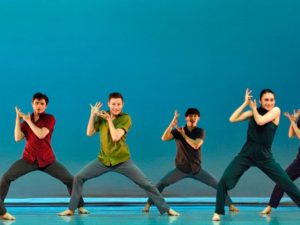 MAMBO, not to be confused with Lou Bega's 1999 hit Mambo No. 5, was a blast to watch. Pires handpicked six classic songs (Perry Como, Papa Loves Mambo, Rosemary Clooney, Sway, Julie London, Perfidia, Xavier Cugat, Maria Elena, Sarah Vaughan, Whatever Lola Wants, Dean Martin, Besame Mucho, and Louis Prima, Buona Sera) to lighten the mood and elicit a few giggles. Each number brought out a different combination of dancers who frolicked in colorful street clothes and bare feet. There was a splash of silliness, a dash of hip-hop, and a flash of West Side Story rug-cutting.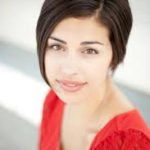 Kudos to the Ballet Kelowna dancers, all nine of them, for being on their toes and not toeing the same old line. Take a bow – Desiree Bortolussi, Valentin Chou, William Hall, Kelsey Hanna, Saia Kuwata, Allison Lang, Yuka Otsuki, Charlotte Reid, Seiji Suzuki, and Kurt Werner. They all exhibited a rubbery quality in the way they moved their toned bodies and visually told a story. BK's performance sponsor was Solinvest and its season partner is Quails' Gate Winery. Ballet BC and The National Ballet of Canada provided most of the costumes.