An Evening with the Rat Pack was No Turkey
An Evening with the Rat Pack was No Turkey
On a day when turkey and trimmings were the star attractions, three Cornish hens showed up on Monday night at Kelowna Community Theatre for a smorgasbord of love songs and laughs.
Fly Me to the Moon…..because an Evening with the Rat Pack was a delight for those in the audience who may have had a chance to see the originals back in the day. Taking the lead roles, faux sure, were Andy DiMino as Dean Martin, Lambus Dean as Sammy Davis, Jr., and Gary Anthony as Frank Sinatra. This traveling trio did a more-than-credible job of looking and singing the parts of the legendary Rat Pack that lived and celebrated the high life of booze, broads, and bright lights.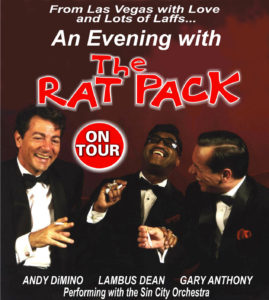 Long ago one scribe described the Rat Pack as the "Mount Rushmore of men having fun." That certainly fit the bill on this night as Faux Martin peppered the performance with G-Rated jokes that elicited groans and giggles from the 350 in attendance. While departing post show, I overheard one woman opine: "I really enjoyed it. They were funny, sang well, and didn't say one bad word."
The show started with the super-suave Martin taking the stage in a tuxedo and cigarette in his right hand. He was backed by a tight six-piece orchestra that featured horns, bass, percussion, and piano. With boozy confidence, he hit all the right notes and belted out Ain't That A Kick In The Head, Volare, and Everybody Loves Somebody. He had the CARP crowd eating out of his gin-stained hand.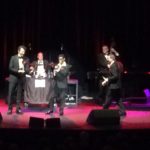 For example, he got the crowd juiced with this American-based ice-breaker. "I'm having Social Security sex…I get a little bit each month but not enough to live on." Rim shot, please. While walking the stage he noticed a young man in the first row. He left the stage, approached the youngster and said "you have no idea who I am; I'm Justin Bieber's great-grandfather."
After Martin came the short-statured Faux Sammy with his signature walk, rings, and dark shades. His first three solos were For Once In My Life, Candy Man, and Gotta Lot of Livin' To Do. Along the way he did some timely tap dancing and called everyone "Cats." Imitation is the sincerest form of flattery.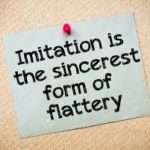 Last to arrive on the scene was Faux Chairman of the Board. He was also in full tux and had the Sinatra hair and swagger. His voice was bold and booming as he led with Come Fly With Me, I Get A Kick Out Of You, and You Make Me Feel So Young. Now that all the boys were introduced, you could feel a fantastic finish looming on the horizon.
The final six-pack was the ultimate crowd-pleaser. Faux Sammy altered his outfit and became Mr. Bojangles. Then came slightly Faux Martin singing That's Amore. Heads were swaying. Folks were eagerly singing along to "When the Moon Hits Your Eye Like a Big Pizza Pie." The biggest applause of the night came with Faux Frank soloed My Way. Like an Olympic gymnast, he stuck the landing. Bellissimo.
All three got together for the closing three numbers – That's Life, New York, New York, and Mack The Knife. Faux Frank commented that these songs "were some of the romantic music every written." On this night, the room was filled with lots of amore. Fedoras off to these Rat Packers.
Big Finish – Luck Be a Lady, you could tell this act was one well virgin-oiled machine. The trio has excellent chemistry and didn't step on each other's lines. In total, they sang 22 songs and looked like they were having a blast reenacting the male bravado roles of a bygone era.