An American in Kelowna – Totally Swamped at the Kelowna Community Food Bank
An American in Kelowna – Totally Swamped at the Kelowna Community Food Bank
Elaine was right.
She had been advising me that Kelowna had a tight-knit business community where "everybody kinda knew everybody."
A few weeks after I arrived in town, I got wind of a week-long basketball camp taking place at a local high school. After communicating with the camp director, I found out a referee boot camp was simultaneously taking place.
Music to my whistle-while-you-work ears. I needed to explore options and make connections.
On a Wednesday night I slipped into the gym for a look. Within 30 seconds I could tell the refs on the court were newbies. They were having trouble with basic positioning and mechanics. I seized the moment at halftime and introduced myself to the ref clinician. His name was Rob. He was busy instructing. We exchanged numbers and I asked a few questions about FIBA rules.

A few weeks later Rob called and asked about my ref availability. I told him I was NOT available because I did not have a Work Permit. Case closed. He proceeded to asked how I was filling my days – I mentioned volunteering. He responded that his not-for-profit workplace, the Kelowna Community Food Bank, was always looking for volunteers. Voila. The next afternoon I was in his office on 1265 Ellis Street signing up for duty.
Rob Weller is the Food Bank's Operations Manager. He's also a basketball referee and assignor. Small world. Works for me. He offered a number of volunteer positions – I chose being a "swamper." The swamper rides shotgun with the donations truck driver and helps pick up donations around town.  Medium lifting and hustle were required during a four-hour shift. Nothing like trying new things and being totally swamped.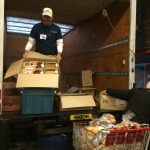 Someday soon I'll post a play-by-play commentary on "the day in the life of a swamper." Here's a teaser – on the Tuesday after Canadian Thanksgiving we picked up 90 pumpkin pies, 22 carrot cakes, and more bread than Elaine and I could eat in two years. All from one mega-giant retailer. Burp!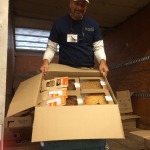 I've been asked to "bump up" my holiday hours for the first three weeks of December. The Food Bank is expecting a windfall of kind-hearted donations before Santa arrives. I'm cool with dashing through the snow and bringing joy to Kelowna's world.  As long as they don't expect me to swamp on Thursday, November 27th – American Thanksgiving.
The Food Bank donations truck goes out 5 days per week for pickups. Here are 5 questions for Associate Executive Director David Purdon:
1.  Approximately how many individuals and families are in the Food Bank database, and is that number growing or shrinking, and why?
On average, we serve 3000 separate individuals per month, one third are children under age 15.  Between 50 and 75 new client household files are opened every month (a household contains one or more persons).  Demand jumped dramatically during the past recession and has been steady ever since.  Hunger results from a lack of income.  Kelowna is the third-most expensive city in which to live and raise a family in Canada.  Since 2007, food cost is up 18%, utilities up 30% and transportation up 14%. 
2.  What is the Food Bank's main function, or how to do see your role, if individuals and families can only come once every 30 days?
By providing short-term food relief to those in temporary need, we offer a helping hand to friends, families and neighbours. Our programs help everyday people overcome the shocks of everyday life –sudden illness, family breakdown, loss of income, etc.  We provide a one-week supply of healthy food and partner with other (shelters/housing, social services, churches and schools) to ensure people receive the support they need in between food bank visits. 
3.  What does the Food Bank look for in vendor-partner (supermarkets, bakeries, coffee shops) relationships, and what do these vendor-partners look for in a relationship with the Food Bank?
Vendor partnerships are mutually beneficial. We work with vendors to alleviate hunger in the Central Okanagan, and they appreciate lower food-waste costs. Every day, our trucks pick up dairy/alternatives, meat/alternatives, fresh produce, cereal/grains and baked/prepared items – recovering and redistributing thousands of pounds per day of  edible (but non-saleable) nutritious food.  In addition, we purchase $2,000/week in milk, eggs, meat, and fresh produce taking advantage of discounts and wholesale pricing. We could not do this without two key programs:  the BuyBC program (at participating stores, every $2 donated buys $6 in food) and Food Banks Canada Retail Food program with Wal-Mart, Target, and Loblaw. 
4.  The Food Bank hands out hampers of goods to individuals and families, can you describe your formula for what foods/items go into these different-sized hampers?
In 2004, we developed our Nutrition Improvement Program (NIP) following extensive consultation with health-care professionals.  Four distinct groups were identified as nutritionally at-risk: pregnant mothers and babies under age one, children and youth, seniors 55+, and those with special health/dietary needs.   We aligned our NIP hampers with Health Canada's daily recommendations. NIP hampers are augmented by an assortment of dairy, eggs, meat, and fresh produce.  Today, 75% of our clients qualify for one of our NIP hampers.
5.  What are the Food Bank's long-term goals heading into 2015 and beyond…..is it feasible to get a bigger space, get more trucks, enlist more volunteers, and deliver more goods to the Kelowna's needy?
It takes a continuous source of food, people, and funds to fight hunger in Kelowna. Our number one goal is to sustain our programs and meet the growing need for healthy food in our community.  We have outgrown our space despite adding a second 4700-square-foot warehouse across the street. We are transitioning from a local food bank into a regional food hub, serving more individuals and client agencies. We are pursuing amalgamation with the Westside Community Food Bank and are sourcing a larger warehouse/office facility.