An American in Kelowna: Lots of Buzz at the Kelowna Community Food Bank
An American in Kelowna: Lots of Buzz at the Kelowna Community Food Bank
The Kelowna Community Food Bank is darn lucky to have its own version of BuzzFeed. No, it's not some kind of copycat Internet news media company. This version is offline and goes by the name of Buzz Kline.
Buzz is a true man-about-town harvester. I'd call him the MVP (Most Valuable Pickup-Artist). Five days a week, Monday thru Friday, the 63-year-old part-time employee drives the Food Bank donations truck around Kelowna, Glenmore, Rutland, and Mission for donated-food pickups. He starts at 7:30 a.m., on average hits 12-15 food outlets (supermarkets, bakeries, big-box stores, and big name coffee shops) during his shift, and finishes usually a few ticks before noon.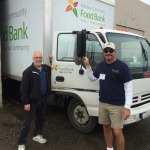 Every stop is like a jig-saw puzzle. He knows exactly where each piece fits and where to park and pull into every back-alley loading dock. It's like philanthropic poetry in motion – he's a human Buzz saw.
Then comes his meat-and-potatoes work. Every vendor-partner has a stash of goods priced out and ready for pickup. We're talking boxes and bags of breads and rolls, canned goods, healthy greens and seasonal produce, desserts, dairy items, pasta and sauces, cereals, doughnuts, diapers, sodas, and household items. It's a cornucopia of consumables. Buzz then buzzes around to the checkout areas of certain markets where they house Food Bank donation bins. Just about every day shoppers are helping fill these rolling tubs with donated goodies. It's a well-oiled giving machine. Everyone plays a part.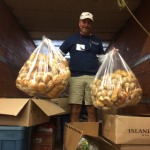 All along the route, Buzz has an organized storage system. Everything has its place in the truck. He's the maestro of maximizing space. Breads and rolls in the back right corner. Heaviest boxes at the bottom for easy stacking. Produce at the front right. Customer donated items along the left wall. Desserts down the middle. Throw him a stack of oddball items – he'll smile and find a nook for these misfits. This precision and ergonomic approach means that nothing falls inside the truck. No food is spilled or wasted. He's on a mission.
The final leg of the mission is bringing this collected cache back to the Food Bank warehouse. That's where staff and volunteers immediately start unloading the truck and begin re-purposing the food for Kelowna's neediest families and individuals. Food comes in the back and is delivered to the community in the receiving line out front. Another well-oiled, community-lifting machine. At shift's end, Buzz parks the cleaned-out donations truck in a nearby parking lot. It most likely will sit there until he arrives the next weekday morning to start anew and metaphorically bring home the bacon.
How do I know all this? At least once a week, usually on Friday, I'm filling the role of swamper. A swamper is a volunteer who rides shotgun with Buzz for extra muscle and support. He's Batman – I'm Robin. Neither of us wear tights. I'm right there in the trenches loading boxes, filling out the manifest log, and talking shop between stops. Buzz seems to be light years away from retiring. That's buzzworthy news for the Food Bank.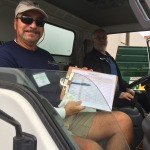 There are 5 basic food groups – here are 5 food-friendly questions for Buzz:
1.  How did you first get involved with the Food Bank, and how did you end up driving the donations truck?
When we first moved to Kelowna in 2008, the company I'd been hired to work for closed its doors before I had worked one single day! I started volunteering at the Food Bank and worked at a couple of casual jobs. When the Food Bank advertised for a driver in June 2012, I jumped at the opportunity.
 2.  What are some of the "do's + don'ts" you've  learned when stopping at each location on your route? What rules have the vendor-partners established?
The primary rule is to be as unobtrusive as possible and not hinder their routine. It's a bonus if I can help them reduce their expenses by removing goods and products which they would otherwise have to pay to have hauled off site. It's equally important to not leave a "mess."
 3.  Can you remember your largest-volume pickup day ever? What were the specifics of that haul, and why?
 Prior to Christmas 2013, there were a couple of days where the truck was filled to shoulder height, front to back. This was a result of incredible customer donations and overstocking by the retailers.
The heaviest load was also last Christmas when I went to pick up approximately 900 turkeys purchased by the Food Bank. I drove the truck up onto wooden pallets so the vendor could drive a forklift straight into the back of the truck. That went well until I started to drive away, at which point, the truck broke through the wooden pallets and crashed back to the pavement! Only a six-inch drop, but frightening.
 4.  What's your favorite part of the job, and why?
That's easy…people. I love any opportunity to interact with people whether it's the volunteers at the Food Bank, the shippers at the retailers, or the swamper riding shotgun with me in the truck.
5.  Can you pass along your favorite "funny story" about an occurrence on your route?
This story is not "funny" per se, but possibly ironic.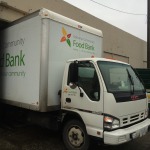 The large roll-up garage door into the Food Bank warehouse was enlarged to accommodate the oversized van body on our truck. Rolled all the way to the top, there is about 2-3 inches clearance. On the sides, there's about 2-inch clearance for each of the large mirrors. Add that to the traffic and parked cars, it requires total concentration when exiting and entering the warehouse. Shortly after I started with the Food Bank, I became distracted while opening the door and stopped short of opening it all the way up! I hopped in the truck and started to drive out hitting the bottom of the door and doing considerable damage to it. The manager questioned the foreman as to whether I was the right person for the job? But the foreman came to my defense saying, "we've all hit the building or door at some point, and Buzz was unlikely to do it again." The manager agreed noting that he himself had clipped the building on more than one occasion. I was relieved and have not hit the door since. Several months later, we were training a sub volunteer driver who backed into the same door doing considerable damage. The driver was mortified and full of apologies. It was my turn to say, "we've all hit the building or door…….." That driver has not had an incident since.