An American in Kelowna – How I "Soled Out" 803 Ways Thanks to UBC Southern Medical Program and Kelowna General Hospital
An American in Kelowna – How I "Soled Out" 803 Ways Thanks to UBC Southern Medical Program and Kelowna General Hospital
Ho Ho Ho – it has bin one heel of a steel-toed journey with Soles4Souls Canada and the Kelowna Sunrise Rotary Shoe Bank.
On November 25 – we decked the halls and placed shoe-donation drop bins at four locations:  Kelowna General Hospital main entrance and Rose Avenue entrance; UBC Clinical Academic Campus, 2nd floor reception; and at UBC Okanagan Reichwald, centre reception.
A Christmas flyer had already been circulated electronically encouraging employees and students to clean out their closets and donate un-needed shoes.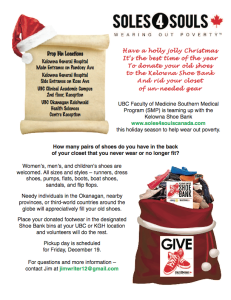 Holiday spirit kicked in. Generosity ensued. Bulging bins abound.
On December 19 – we jingled all the way to KGH and tied up loose ends. The holiday carolers on hand were: Jim Belshaw, chair of Soles4Souls Canada and owner of Roy's Shoes Boots and Repair; Donna Moyer, Shoe Bank maven; Dr. Allan Jones, Regional Associate Dean, Interior, UBC Faculty of Medicine; Doreen Welsh, Kelowna Rotary; and Ron Cannan, MP.
All bins were emptied. All shoes collected. All that was left was the final tally.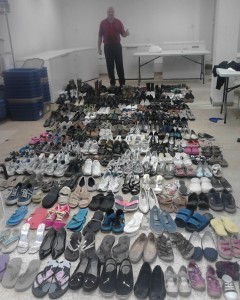 On December 22 – 803 pairs of donated shoes!
"Joy to the World" to people in developing nations who most certainly will be receiving a portion of the runners, sandals, and flip flops. Frosty the Snowman says: "the waterproof and hiking boots will stay local or reach into nearby provinces."
Heartfelt thanks to the employees and families of the UBC Southern Medical Program and Kelowna General Hospital. Santa knows you've been nice.