An American in Kelowna – Heel of an Effort for Shoe Bank Canada
An American in Kelowna – Heel of an Effort for Shoe Bank Canada
In the candy-cane lyrics of pop-princess Britney Spears: "Oops!… I did it again."
Did what? Collected donated shoes (women's, men's, and children's) on behalf of Shoe Bank Canada at various sites in Kelowna in our second annual Christmas Holiday promotion.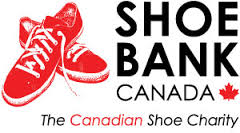 Based on last year's benchmark of amassing 803 pairs of shoes, we had a tried-and-true formula for finding footwear by setting up Shoe Bank Canada donation bins in the following locations:  Kelowna General Hospital (three separate entrances), UBC Clinical Academic Campus (reception area), UBC Okanagan Reichwald Health Sciences Centre (reception), Kelowna Secondary School (multi-purpose area), and Immaculata Regional High School (main entrance).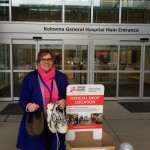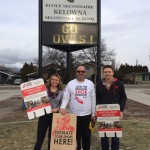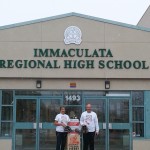 Shoe-mageddon began on December 1st and kicked its heels until December 18th. Over those 17 days, we encouraged everyone at our participating venues to clean out their closets and bring in the curb stompers they were no longer wearing. Pretty simple. It was one-stop dropping. They could stop by the bins, drop their unwanted boots, runners, dress shoes, deck shoes, sandals, flats, and flip flops in the bins, and be on their way.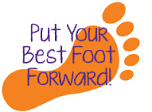 Elaine and I put boots-on-the-ground and did one final sweep on Saturday, December 19th. We collected all the bins and shoes and drove our inventory to the SBC warehouse for the big finish.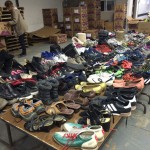 Drum roll please………..920 pairs of shoes.
Donations breakdown:
KGH/UBC – 690 pairs
KSS – 122 pairs
IRHS – 108 pairs
Stellar job by everyone. We super-sized last year's take. That brings our two-year total to 1,723 pairs. We'll have to lace'em up again for Y3.
What will happen to all these shoes? A good portion will stay in British Columbia. Another portion will find their way into other provinces. And some will be shipped to locales such as Haiti, Honduras, and Jamaica.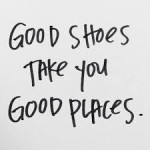 Deck the halls with boughs of Hush Puppies – next year we'll be shooting for four figures in our footloose festival of forsaken footwear.