An Acoustic Evening with Lyle Lovett and John Hiatt
An Acoustic Evening with Lyle Lovett and John Hiatt
Now that was entertainment at its highest and twangiest form.
On the first Sunday of March, nobody at Kelowna Community Theatre delivered the wrong envelope or read the wrong name. The headliners on this memorable night were two talented technicians – Lyle Lovett & John Hiatt. As advertised, these premier American singer-songwriters joined forces for an acoustic evening backed by nothing but their high-octane voices, incredible guitar playing, and friendly banter between songs that came off as unrehearsed as two chums sitting in grandma's basement.
Let the record show that these highway-tested road dogs delighted the packed house with 23 songs in two-and-a-half hours of live theatre. No intermission. No backup singers. No frills. They were on their own on the dark stage, pickin' and grinnin' with amazing grace and dignity across various musical genres. Both have deep roots in blues, folk, and country. Both brought star power and noted résumés.
Lovett has released 14 studio albums, won four Grammy Awards, and has more than 40,000 Twitter followers. Hiatt has released 22 studio albums, been inducted into Nashville's Songwriters Hall of Fame, and has his own star on Nashville's Walk of Fame.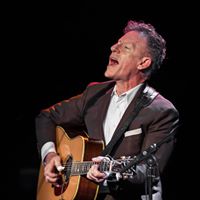 When the twangy twosome was about to be introduced, wife Elaine and I could sense the mostly Gen X audience was geeked-up like a hockey horde. This was no run-of-the-mill walk down memory lane. When the blues brothers (my nickname for them) took the stage, they were dressed in their Sunday best. Suit and tie and white shirt. Classy move. I found it especially compelling how one would watch the other sing with a look of wonderment and respect.
I won't pretend that I knew most of their songs. Not even close. My goal was to soak in the lyrics, get lost in the warbling, and watch these gents handle a guitar like Sidney Crosby handles a stick. It was magical and mesmerizing. Better yet, it seemed effortless. These were master craftsmen.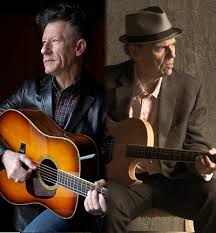 What stood out? Their distinctive voices. These were not two axe-wielding peas in a pod.
I would describe Lovett as hitting all the high notes with ease and harmonizing the heck out of every stanza. The guy can elegantly carry a tune. Sitting only a few feet away from his touring partner, Hiatt showcased a raspy, twangy voice with, one can assume, a lot of miles on it. He was more of the bluesy storyteller who belted some notes not heard on any scale. Playing the harmonica and whistling were also part of his repertoire.
Here's a playlist sampling that spanned the decades:  "She's Already Made Up Her Mind", "Fat Babies", "She's No Lady", "Thing Called Love", "Have a Little Faith in Me", "Memphis in the Meantime", "Cadillac with Tennessee Plates", "Crossing Muddy Waters", and "My Baby Don't Tolerate".
The Big Finish – Elaine described the performance as intimate and authentic. I couldn't agree more. Lovett and Hiatt put on a spectacular show and defined the meaning of true professionals.