Alonzo King Puts a Cultural Spin on the Science of Ballet
Alonzo King Puts a Cultural Spin on the Science of Ballet
Have you ever had the experience of watching a movie or television drama and saying to yourself "I'm not really following the plot but like what I'm seeing?"
That was me exactly on the first Tuesday night of March at Kelowna Community Theatre. In town for a one-night floor routine was the Alonzo King LINES Ballet from San Francisco. Based on this touring group's reputation and global rave reviews, wife Elaine and I viewed this opportunity as a chance to flex our deltoid muscles and expand our cultural biceps.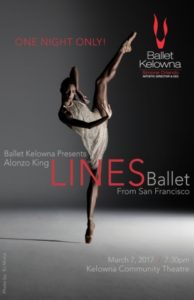 Who wouldn't be intrigued after reading this marketing nugget:
"Alonzo King LINES Ballet, now in its 33rd year, nurtures dynamic artistry and the development of authentic, creative expression through dance. The group is dedicated to exploring the possibilities of movement from a global perspective, and to renewing, and transcending, traditional ballet. Alonzo King is a celebrated choreographer who actively develops original new works with other artists from diverse disciplines and cultures. He understands ballet as a science – founded on universal, geometric principles of energy and evolution – and continues to develop a new language of movement from its classical forms and techniques."
While it snowed outside, the ballet bonanza inside was divided into two programs. First came SHOSTAKOVICH, music by Russian composer Dmitri Shostakovich. After intermission came SAND, with jazzy beats from saxophonist Charles Lloyd and pianist Jason Moran. Don't ask me to interpret what took place on stage during each program. I'm not qualified.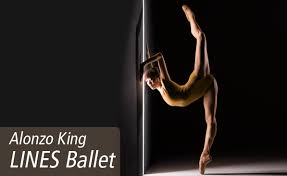 The company was comprised of 10 dancers – five women and five men. One of the men was Robb Beresford, the only Canadian and an alumnus of Ballet Kelowna. The women mostly wore leotards with open backs. The shirtless men wore tiny shorts, stretchy long pants, and the occasional wrap-around skirt. Never once did we see a tutu – this was contemporary interpretive ballet.
What was my number-one takeaway from 90 minutes of explosive athleticism and steely expressionism?
These elite performers were RIPPED! We're talking six-pack abs, flat bellies, tiny waists, muscular backs and well-defined arms and legs. At every twist, turn, jump, and spin there was an awe-inspiring chiseled muscle group or sculpted torso on display. Were these long-limbed laborers photoshopped?! Someone needs to patent the ballet diet. It works. And you'll look fantastic in tights.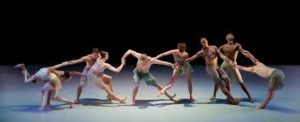 What are the must-have attributes to becoming a bona fide ballet bestie? Here's what I scribbled in my notes near the finale:  acting skills, good posture, flexibility, fluidity, charisma, elegance, poise, strength, balance, power, healthy knees and ankles and toes, a strong back, and an on-demand masseuse. That's all. Sign me up, Alonzo.
Big Finish – On May 4th + 5th, Ballet Kelowna and the Okanagan Symphony Orchestra will be performing together at Kelowna Community Theatre for a special show entitled "Canadiana Suite –  A Sesquicentennial Celebration."