2017 Canadian Just for Laughs Comedy Tour was a Howler
2017 Canadian Just for Laughs Comedy Tour was a Howler
On a busy October Monday night when MLB, NFL, and WWE were all sporting-it-up on various TSN platforms, JFL snuck into town for a ROFL 90-minute gut-buster at KCT.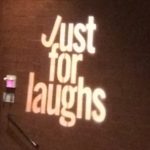 Translation – there was a ton of sports on television, but by far the biggest hit of the evening occurred when Kelowna Community Theatre got a one-night, down-and-dirty visit from the 2017 Canadian Just for Laughs Comedy Tour. The 17th edition of the annual comedy showcase was hosted by bilingual showman Sugar Sammy, he was flanked by the genial Gina Brillon and anti-stupid cynic Alonzo Bodden.
No punch line needed here – the almost-sold-out house gobbled up every delicious morsel like leftover pizza at a frat house. The comic trio came loaded with lab-tested material that consistently hit the mark and metaphorically had folks rolling on the floor laughing. It was that raucously good, F-bombs and all. JFL claims its mission is to "Make People Happy." These left-wingers lit the lamp with GPS precision.
Sugar Sammy took the stage first and set the no-holds-barred bar extremely high. Described in his bio as a "charismatic provocateur who seamlessly hits on cultural, social, and political themes with charm and finesse allowing him to connect instinctively with audiences on an international level," the Okanagan faithful were immediately buying what he was selling. Right out of the gate he got big yuks with "I walked around downtown Kelowna this afternoon. It was the best 45 seconds of my life."
The Montreal native then dove into the grittier subjects of ethnicities ("are there any ethnic people in Kelowna?") and his Polish girlfriend (who costs him "a fraction of the price of his previous Caucasian girlfriend"). There was a smattering of groans mixed in with devilish laughter as he aggressively explored these culturally topical continental divides, but nothing came across as mean-spirited or crossing any PC line.
Up next was Brillon, a Latina actress and poet from the Bronx. She spent the shortest time on stage, mostly cracking wise about being recently married ("a relationship promotion") and remembering back to the awfulness of her single days. Her gags on dating rules and being hit on by younger guys got big rises out of all genders in the crowd.
Bodden brought down the house with a rousing set that made light of everyone and everything. He tapped into "the night of the incident"…the 2016 American Presidential election, the American President ("he thought Justin Trudeau was Canada's Next Top Model"…..got a big roar), and what Americans know about Canada ("you don't think we hear you laughing"……another razor-sharp roar). His take on a grizzly bear trying to nab a slippery salmon was hysterical. His schtick on men married for 20 years or more ("20-year veterans") and how they methodically handle things at home was sensational.
Big Finish – while researching these performers, I discovered that many comedians do not like talking with reviewers before or after shows. It mostly has to do with "giving away the farm" by publishing some of their best lines. I get that. Hope I didn't cross too many lines with this recap?